DrupalCon is coming! In only 10 days, four of us "Cocomories" will be flying to London for the conference (and, by the way, we'll be writing regular blog posts from London, so keep your eyes here for updates). Now is a good time to consider what our priorities are for that time... with so many interesting-sounding sessions scheduled, it isn't easy to choose which ones to attend. This blog post covers some of the things to consider when planning your attendance at a DrupalCon.
I'm going to assume that if you are attending the event, you've already booked your flights (if needed), hotels (ditto), and made any other requisite travel arrangements. This time, the conference is not taking place at a hotel, but within a short distance of several hotels. We found one that was a short walk from the conference location and significantly less pricey, compared to the top recommended hotels. Since we'll probably only be at the hotel to sleep, we didn't think it was worth paying a ton for our lodging.
DrupalCon changes...
Drupal first became an open source project in 2001, so it's now 10 years old. But the first DrupalCon wasn't till 6 years ago, at which time there were only 40 developers in attendance. Now it's filling venues (over 3000 attendees at the last two conferences in North America and 1500 in Europe) and the range of interests is far more diverse.
One of the downsides of Drupal getting so popular and attracting a lot more attention from non-traditional members of the community — maybe some would call it a benefit — is that now there are often a half-dozen or more sessions taking place at the same time. For this London DrupalCon, with about 1500 participants planned, there are six different primary "tracks":
Site Building and Environment Set-up (this is where I started out, not so long ago, when I chose Drupal for my first ambitious web project)
Business and Best Practices
Code & Coders
Design, UX, and Themeing
Ecosystem
Core Conversations
Here at Cocomore, I'm a "developer trainee"; I'm still learning my way around PHP and the Drupal API, so I'm "supposed" to be in the "Code & Coders" track, right? But of course, like most of us, my interest in Drupal doesn't fit into a nice, neat box. I'm also interested in the community, usability issues, best practices for themeing, site building, and yes, even the "business" and "core" issues are important. So it makes it a bit hard to choose, especially when several of the sessions I was most interested in got scheduled for simultaneous time-slots.
Planning your schedule...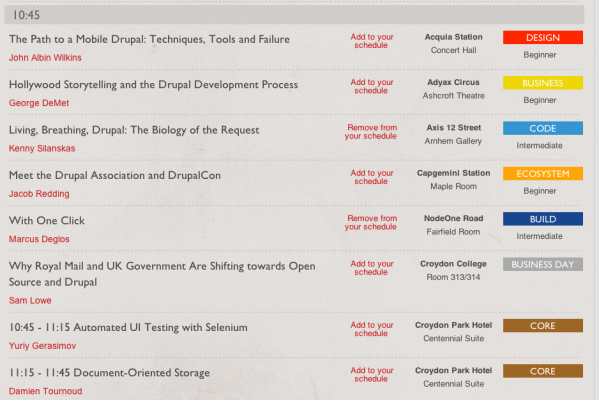 (If you are logged into the DrupalCon website, you'll find links to "add to your schedule" within the main "schedule" pages — and at the bottom of each session description).
http://london2011.drupal.org/conference/schedule
So with so many choices, how do you decide which sessions to attend? Luckily, the DrupalCon London site allows attendees to create a personalized schedule for the sessions they plan to attend. Even more luckily, the scheduler allows you to double-book yourself. That should make it easier to whittle down the selection to those of greatest interest, while keeping a "second choice" ready if any sessions are cancelled. Even at the first session slot on Tuesday morning, I've added myself to two tracks — and that's about average for the rest of the sessions… I wish I could be in two or three places at once for much of the week.
My plan, between now and next week, is to quickly re-read the descriptions for the sessions I've added to my schedule and, if I'm not familiar with the speaker, research them a bit. We can download video from many of the sessions that were held in Chicago, and many of those sessions are similar to the ones planned for London — indeed many of the same presenters will be in London. We can see which of the presenters have often received rave reviews, we can see which speakers spoke clearly and were easy to understand, and we might be able to satisfy our interest in some of the material by watching what's already been released online. I hope to be more sure about which room to go to by the time of the first sessions in just a bit more than 5 days now, but with luck I'll still be able to download the slides and audio for the sessions I don't get to attend.
Coming from abroad?
Most of us are traveling from outside the UK, so you're in good company. If you haven't been to England in a while, don't forget that there are some things they do differently over there. You probably won't be renting a car if you are staying in London; driving there is generally known to be a hassle, but if you do end up behind the wheel, keep especially attentive when you drive into roundabouts and when making turns. It can be easy to fall into familiar patterns and end up driving the wrong way, which could be hazardous to your health. (I've seen it happen before, though luckily without catastrophic consequences.)
Another thing we all need to remember is to bring some pounds (or exchange some dollars or Euros right away)… they don't use our money over there. They also don't use the same electrical outlets, so you'll need to remember to bring an adapter if you will be charging a notebook or mobile phone. And if you haven't flown in a while, beware that flights from mainland Europe to the UK may have severe restrictions on the weight of the baggage you can check or carry on the plane with you. Double-check the conditions of your ticket and be sure to weigh your bags before you leave home.
Keep an eye out for us...
We hope to see you in London and look forward to getting to know more of the international Drupal community. Being a participant at this DrupalCon is a great opportunity and I'm sure it will be rewarding for all of us. If you won't be in London with us, you can follow this blog and we'll keep you updated.