Past 5th of December took place in Murcia a new edition of DrupalDay Spain. DrupalDay is an event focused on Drupal developers, organized by different local communities each year with the help of the Spanish Drupal Association (AED). Shorter and more focused, it has been held at different points of the country like Barcelona, Santander, Valencia, Bilbao and this year it took place in Murcia.
This year we were about 40 attendees, this makes this event a very special one and more familiar, everybody can meet each other and at the same time you can share experiences easily in a closer environment compared with a DrupalCamp (~300 attendees) or a DrupalCon with thousand of attendees.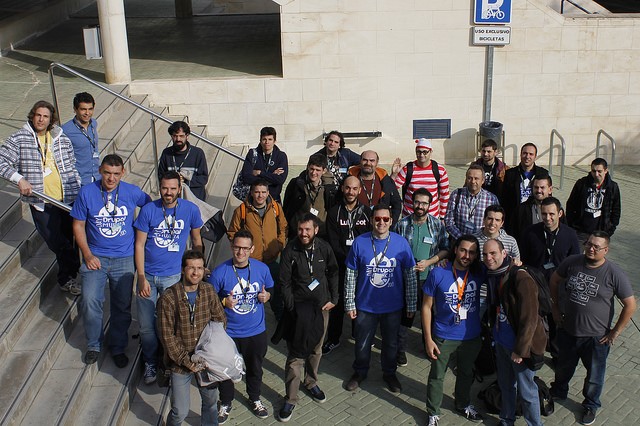 Group picture of DrupalDay Murcia 2015. 
We could enjoy 8 talks and 4 workshops related with Drupal or PHP development. Some of the sessions were:
- Happy APIs in Drupal 8 by @juampynr : In this session Juan Pablo Novillo was speaking about how to use the modules REST, REST UI and Views for build your APIs with Drupal 8. He was covering differents scenarios and how to build them with pros and cons of each of them. You can find the slides of this session at: Happy APIS in Drupal 8
-  The Docker revolution by Pablo Chico de Guzman: Pablo gave us a introduction of Docker and how to use it in different developing environments or within CI. You can find the slides of this session at the details of the session.
-  Multilingual system at Drupal 8 by @penyaskito: Where he talked about the new features that the new multilingual system bring us in Drupal 8. You can find the slides of this session at the slideshare account of Christian.
Also you can find the complete schedule with all talks and workshops at the schedule of DrupalDay.
In Cocomore we have been working with Drupal 8 for some time already and we have faced the challenge of start developing with Drupal 8 in real projects for our clients. Because of that we wanted to participate in the DrupalDay as we announced in a previous blog post. My goal with this talk was share with others our experience developing Drupal 8 sites and make easier to others the learning curve of Drupal 8 if you have been developing before with Drupal 7.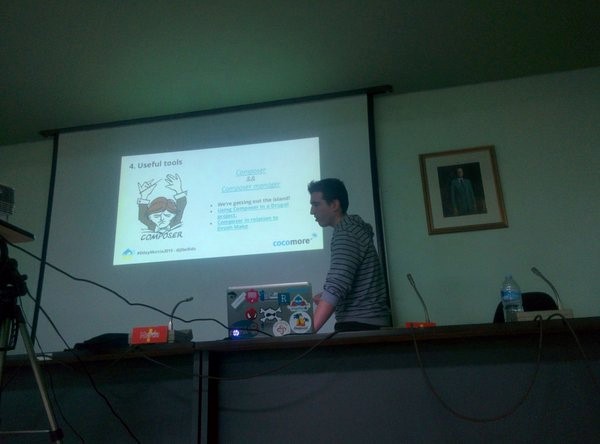 Picture of the talk  "From Drupal 7 to Drupal 8: My experience"
I structured the talk mainly in 3 sections:
- Reset yourself: In this section I explained what thoughts are required to keep in mind if you are going to start Drupal 8 project such as forget everything you learnt before and only keep in mind the main concepts.
- Useful tools: With some of the more important documentation resources.
- Useful documentation points: With some tools that I found essential developing my first Drupal 8 site.
You can find the slides at speaker talk or attached at the details of the session.
As summary
We enjoyed this new experience with the Drupal community and learnt a lot with the sessions that were given there.
I would like to thank to the organizers of the event who made it possible. They showed us the city and surroundings, included some of the best dishes in Murcia! You rock guys!
Now we are looking forward for next DrupalCamp Spain 2015 which will take place in Granada!