Amazon Marketing: Changes in product ratings
Around the turn of the year, Amazon made two changes in the area of product ratings, which open up new opportunities and risks for brand manufacturers. Amazon vendors who react to the changes with targeted review management could benefit from this in the long term.
 
Amazon's star ratings now based on a machine learning model
Specifically, Amazon says goodbye to the calculation of the product rating based on the average raw data. In future, machine learning will be used for this purpose.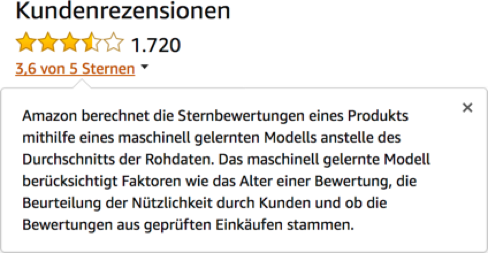 In addition to the sum of reviews, the following three factors will now be given weight in the calculation of the star rating:
The age of the rating
The assessment of the usefulness by Amazon customers
Whether the valuation is derived from verified purchases
The coming weeks and months will show how much this weighting will change the star ratings and how important this will be in practice. However, since this is a machine learning model, it can be assumed that the new weighting will have a clearer impact over time. This offers Amazon vendors the opportunity to improve their competitive position by taking targeted measures – by using the factors to their advantage.
Although this change does not currently affect all categories and products on Amazon, the new method of calculation will probably be introduced in all product categories soon.

Amazon favours in-house reviews and limits the submission of reviews without verified purchase
With the second innovation, Amazon limits the number of reviews per week and per product on "non-verified purchases" to a maximum of 10. Excluded from this are the Amazon Vine product testing program and reviews of digital or physical books, music and videos.
The Amazon seller service's answer to the question of how "non-verified purchases" will be limited when submitting reviews from January 4, 2018: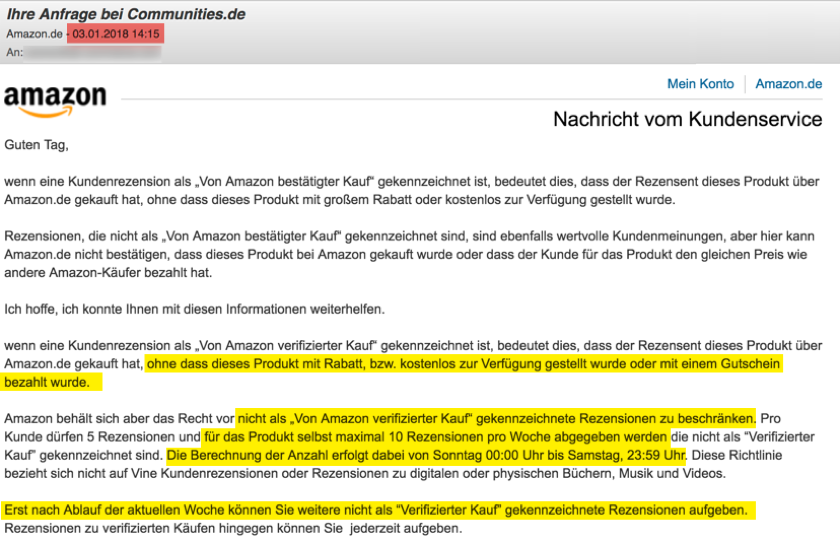 Valuations of products that have been purchased via vouchers or discounts are therefore now treated in the same way as those that are based on free products provided by reviewers – and at the same time very limited.
According to comments in product tester forums, these changes are likely to have taken effect shortly before Christmas. Since then, some Amazon customers have been experiencing problems reviewing items when they are rated as "non-verified purchases" under the new policy.
Through the possible future devaluation of "non-verified purchases" by the machine learning model in the calculation of the star rating, this measure receives an additional weighting. In the future, this will have an impact on the methods of review construction for many manufacturers, as long as they have not previously relied exclusively on the Amazon Vine program.
If you would like to learn about suitable measures and strategies to benefit from the current changes, please contact us.
Contact: 
Gregor Arentz
Director Consulting Amazon Marketing
Phone: +49 (0) 221 29262 00
koeln@cocomore.com