Today, UX design is much more than composing websites from sitemaps and wireframes. We work user-centered, journey-based, cross-device, and have multiple touchpoints in mind. Knowing full well that people no longer orient themselves to the standards of an industry but expect the user experience they are used to from the global (digital) players. At the same time, they do not base their perception of a brand on its strongest touchpoint, but rather on its weakest – which then has a negative impact on the overall perception of the brand. User Experience is therefore not an end in itself, but combines business goals with real user needs to create successful solutions that can have economic, organizational, and social dimensions.  
So, a broader perspective is needed to meet these challenges. And a strategic framework that gives direction and momentum to our UX work. At Cocomore, this framework is called Entrepreneurial Design. We see ourselves as co-entrepreneurs of our customers. And Entrepreneurial Design is the strategic framework of our work. It combines Design Thinking methods with business modeling and systematic performance analysis that always keeps an eye on the business impact and optimizes it further.   
An approach that also defines the work of our UX team. For every use case, every feature, every interface, the focus is always on the question of what contribution a specific solution makes to the overall result and why this is measurably better than an alternative. This results in specific requirements for our UX experts throughout the entire Entrepreneurial Design process.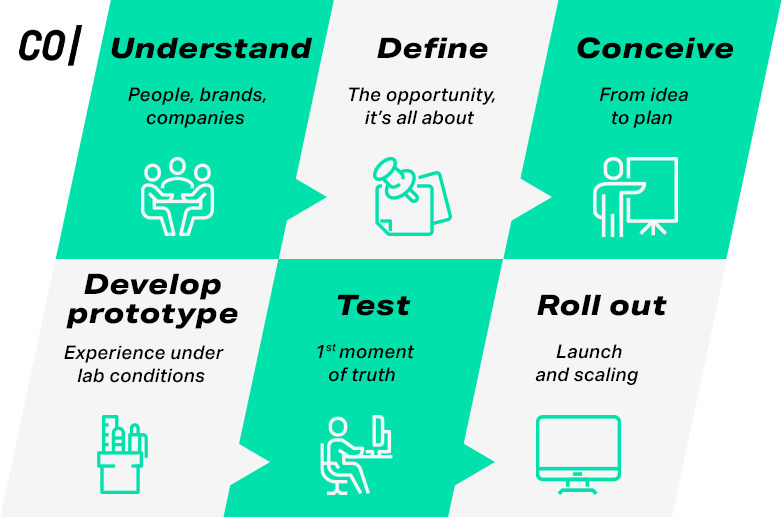 The first two phases of the process focus on understanding the target group's needs, business goals, the competition, and the respective brand and its promise ("Understand") to define the opportunities for success specific to a project ("Define"). We like to say "The opportunity it's all about" – and this is where UX plays a crucial role. What are people's expectations of a brand and its digital offerings and services? What are general expectations of digital user experiences in today's everyday life? Where does the competition stand, what are industry standards, and what is needed to improve and redefine these standards? But also: What is entrepreneurial success? What can it be measured by? This is the dimension that distinguishes Entrepreneurial Design from classic Design Thinking approaches. Here, the UX team and our business consultants work hand in hand with our customers. 
Just because everyone chooses the same solution doesn't necessarily mean it is the best. Our UX team, therefore, explores ways to break the chains of eternal sameness and develop smarter, more beautiful, and better-performing solutions for the crucial points in the customer journey than the competition. Based on available data, defined personas, and real user journeys, the aim is to develop real added value as a central aspect of the respective user experience, which is easy to achieve via clearly defined target actions. Something that other brands do not offer, a disruptive element, a real difference. In the process, we also look at how a journey progresses across different touchpoints – or where it breaks off unintentionally. The resulting solution scenarios are complemented by a set of KPIs so that it is already clear in early project phases how success and business impact can be measured. 
In the following two phases, we develop the most exciting approaches further into working prototypes. Entrepreneurial Design means that we not only develop a model of our digital service or product. We also create an economic model, i. e. a business case. The deep entry into the conception phase ("Conceive") thus includes, on the one hand, the development of concrete implementation ideas, wireframes, and initial design mockups. Here, the UX team works closely with UI Design and Software Development so that the user experience becomes visible, and the technical possibilities become tangible. At the same time, however, UX provides central input for the future data setup and is re-iteratively linked to the development of concrete business cases. One could also say: In Entrepreneurial Design, wireframes and spreadsheets meet and merge into something that promises entrepreneurial success. At this point, at the latest, our data and analytics experts join the project. We have to design the data layer and the data-based control of our solution. This is the only way to make it a sustainable business success. 
The prototype phase ("Develop Prototype") then brings the project to life under laboratory conditions, so to speak. The UX team drives the development of click dummies, high fidelity prototypes, or MVP features with user journeys, wireframes, and corresponding storyboards. At this point, the future Author Experience (AX) also plays an increasing role. After all, the effort and success of a project also depend on how easy it is to maintain an app, a website, or a complex feature in live operation. 
Prototypes – regardless of their type and level of production – help us to learn more about the product, its interfaces, the optimal connection to the next step in the journey, and user acceptance. To do this, they are tested in the phase that follows ("Test"). The UX team develops the test cases and specific test scripts for this "1st moment of truth". In Entrepreneurial Design, these tests are aligned with the business case because it is not only important to test the experience, but also whether it can become a driver of entrepreneurial success.   
From an experience perspective, the first questions are: Does our approach meet users' expectations of a brand on their journey? Does it activate the optimal next-best actions? What works well? Where do we have dropouts and dead ends? Is something perhaps not immediately understood, or can a feature be used particularly well? The answers to these questions show where there is potential for optimization. In addition, there are KPI measurements that show which assumptions ("exogenous variables") of the business case are valid, how they need to be adjusted, and what needs to be modified to be entrepreneurially successful. All this information becomes central to the successful launch of the entire project, completed iteration by iteration and feature by feature. 
The market-ready project is finally launched in one or more markets ("Rollout") and often transitions into agile maintenance. In this phase, it is crucial for the UX team to convert current analytics results and user feedback into concrete and business-relevant optimizations as needed and to share corresponding impulses with UI, Development, Data & Analytics, and Business Consulting. Iterations and optimizations that already characterized earlier project phases are now repeated as part of the continuous further development of the project.   
Overall, the UX team plays a crucial role in the entire Entrepreneurial Design process. It forms the interface between Design, Development, Business Consulting, and Data & Analytics. In the central phases of a project, it sets the impulses that make it special, overcome industry standards and combine user satisfaction with business impact. From junior to director level, the range of tasks is as broad as it is exciting. 
Therefore, UX experts with a broad T-profile, which combines, for example, a design background with analytical, creative, and business skills, are a particularly good fit for Entrepreneurial Design. It is precisely the combination of such skills that we practice and train in our Entrepreneurial Design approach. UX Design is therefore also interesting for career changers with a background in communication, design, or consulting.