A new look for AdmiralDirekt and bessergrün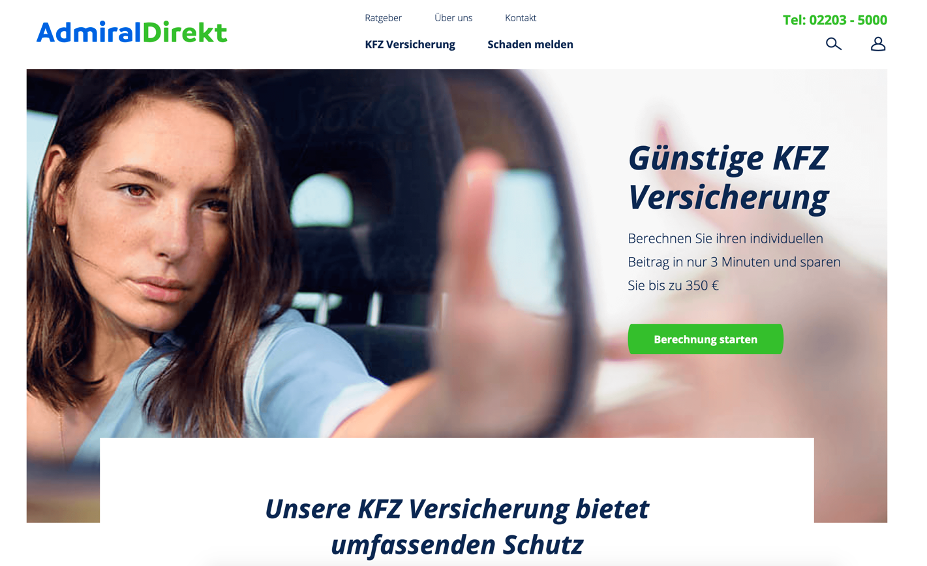 Personal service and an innovative, digital focus, all in one brand image – is that even possible? Sure it is! Cocomore's team, providing creation, consulting and project management, has shown that it can be done with AdmiralDirekt's new web presence. The direct sales subsidiary of the Cologne-based insurance company Itzehoer Versicherung provides inexpensive, high-performance car insurance – and currently has a customer base of more than 200,000 customers. Now Cocomore has optimised the AdmiralDirekt brand for the digital age.
The comprehensive project involved these challenges:
Refining the existing corporate identity and partially reconceiving it, including a new, modern colour palette, fonts and icons
Search engine optimisation for the website to ensure high visibility on Google
Improving the user experience — putting the user at the centre of the new concept for the website
"We were particularly impressed by AdmiralDirekt's willingness to implement innovative suggestions as well as their agile work processes," says Cocomore Executive Board Member Marc Kutschera. "It was fun to come up with new things with AdmiralDirekt's team of experts." Thomas Vogel, Managing Director of AdmiralDirekt, is also pleased: "We are getting consistently positive feedback from our customers. Naturally, we are very happy about that." AdmiralDirekt is not completely done optimising, however. Other online services will be following shortly. In the next step, Cocomore will work with AdmiralDirekt to revamp the fee calculator and the customer login to be more modern.
And that's not all: after successfully launching the new website, the next task was to create the new AdmiralDirekt brand bessergrün, a sustainable marketplace for insurance products. Cocomore was responsible both for the brand identity as well as the new website.
The result of this successful collaboration includes two internet presences that not only speak to current topics that are important to people, but which also meet their expectations in terms of design and a customer-centric experience in the digital age.