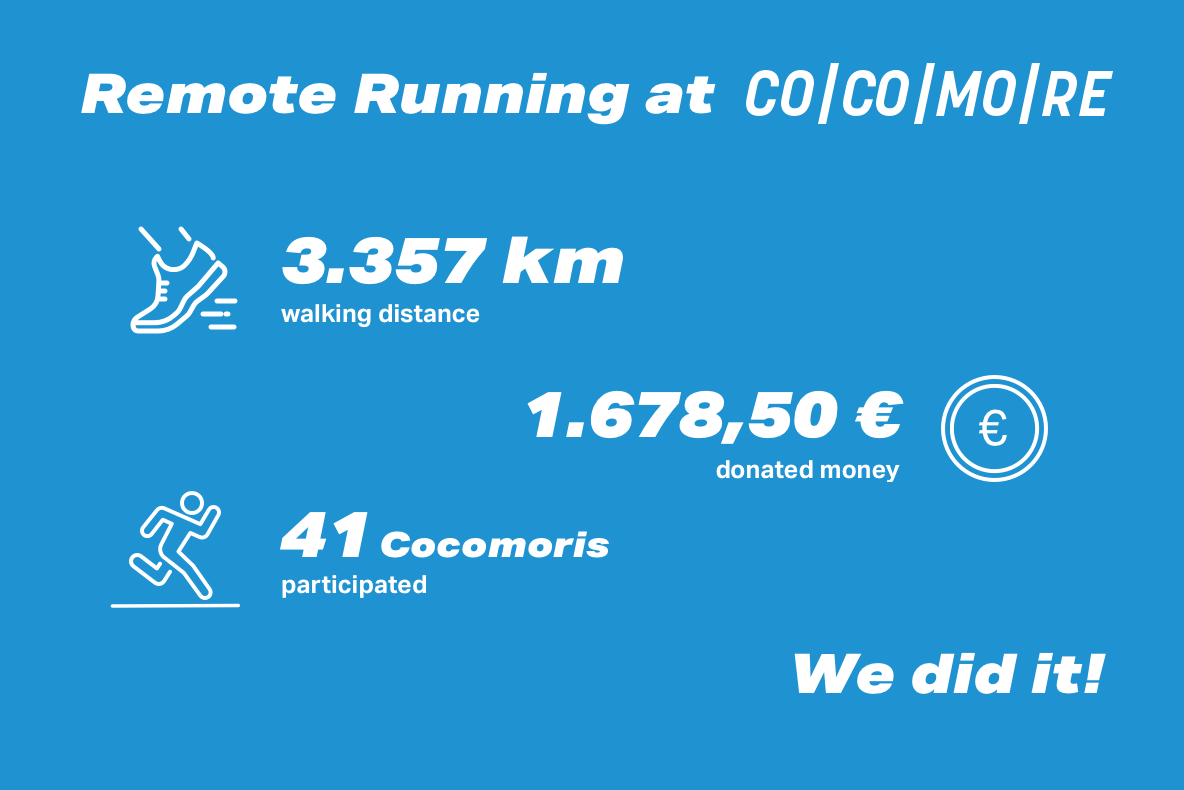 My Cocomotive adventure
Just after I joined Cocomore in May 2021, I received an email with an intriguing title: Move for a good cause. That already sounded very interesting to me, so I decided to join the organizational meeting for this event.
Moving for a good cause turned out to be a remote running club called COCOMOTIVE, an initiative for all Cocomore employees. The company decided to donate 0,50 € to a Unicef project for every kilometre we walk, run, swim or cycle. And: Unicef supports COVAX to provide vaccinations against the Coronavirus worldwide!
Our goal was to reach 2,000 kilometres and donate 1,000 €.
With such a great aim, many of us decided to participate. For me, it was also a perfect moment, as just a month before, I started my little running adventure. Beforehand, I have never understood how running can be something more than just getting exhausted 😉 Pleasure? It seemed impossible. But then my father, who runs every morning with his friend, encouraged me to try it as well – starting with 5 kilometres. And it just happened – I started enjoying it as I felt so much better after starting the day with sport!
So, for me, COCOMOTIVE was not only a challenge to get as many kilometres as possible, but also the motivation to continue with my new routine and make a habit from it. And it worked pretty well. I am very proud of my 29,0 km and donation of 14,50 €. That is not the highest number. But for me it was the beginning of a healthier lifestyle. And the fact that it is for a good cause makes me even more satisfied with my little success.
We did it all as a Team!
And as a Cocomore Team, we also fully succeeded – at the end of June, our Cocomotive application showed even more than the magical number of 2,000 km!
41 Cocomoris reached 3.357 km by swimming, running, or biking! Thanks to that, Cocomore donated 1.678,50 € for providing vaccinations against Coronavirus worldwide. Isn't that amazing? Some of the colleagues began their days with sport activities, and some preferred lunch breaks for sport or evening runs. Some of us trained alone, and many also involved their family members. We changed our habits – instead of driving a car to the office, we take a bike. Furthermore, we chose to walk to markets now, instead of taking a car.
And what is the coolest thing about COCOMOTIVE? 41 participants mean 41 stories to share. Get familiar with some of them down below!
Our stories
Why did I participate in COCOMOTIVE? I always try to take some time to do sports, jogging lately. And in one of our weekly PM meetings with my colleague Chip, I remember discussing that it would be great if we as a team (Cocomore) could have a way of sharing our achievements. Sort of auto encouraging ourselves by seeing others, and just have some fun. So, I was in since the first minute. What I take from this experience is the great attitude and mood we have at Cocomore. We spent a lot of time together (remotely but together). And of course, the fact that at the end, it was all for charity, which is very motivating.
Enrique Leon-Prado, IT Project Manager, Sevilla
What I find very cool about COCOMOTIVE was a feeling of team spirit. But it was difficult remembering to track the time before and after the run.
Sabine Mietzner, Creative Director Editorial, Frankfurt
When I heard about COCOMOTIVE, I thought it could be fun to participate and see how we are doing as a team and hoped it would keep me motivated to walk regularly and see how much I was achieving in some months. For me, the biggest challenge was to remember to start and stop the clock every time 😉.
Maria de la Luz Cabrera, Senior IT Project Manager, Sevilla
I decided to join COCOMOTIVE because of its charity aspect and motivation to run more. I used to run 3 times a week but, with a child, it's more difficult. I like running groups the most, but if it is not possible, you can always find time to walk or cycle – even in times of home office.
Sandra Külsheimer, Client Service Director, Frankfurt
Before the participation, I already had jogging as part of my daily routine with a Strava account. So, it required no effort for me to join COCOMOTIVE. I also thought it was a very nice initiative of turning a group effort into something meaningful. And… I didn't know there were many joggers and cyclists in Cocomore before. So, I learned more about my colleagues.
Yuki Kishino, Senior Frontend Developer, Frankfurt
I was very fascinated with COCOMOTIVE. I got to know new sides of many of our colleagues on different occasions, and I was even fascinated all the time by the stories the data told. I started checking out Remote Run on an almost daily basis. It was very cool to see how someone is riding the bike to work 3 times a week, how someone else is walking to work, how many of us go for lunch walks, or different other nice things my colleagues did to help donate for a good cause. All these stories inspired me to keep going and starting to like to bike and jog, even though I could never have had imagined this a few months earlier.
Ciprian David, Director IT Project Management, Frankfurt