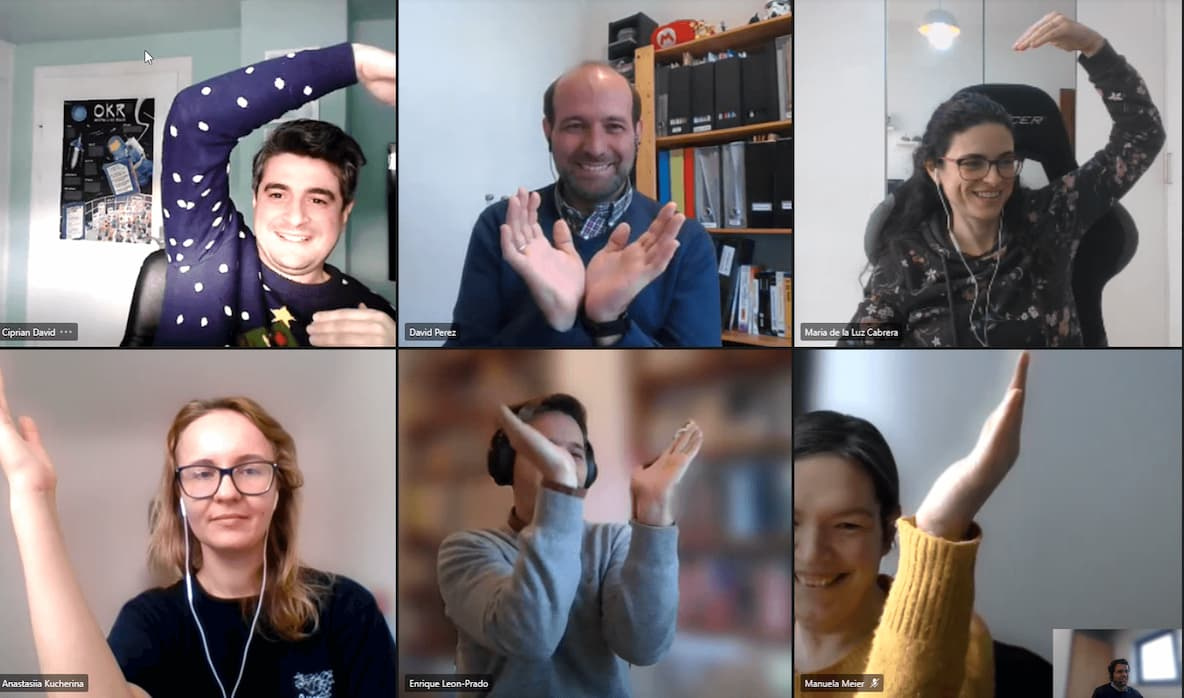 "What does it take to work good remotely?" was a question on LinkedIn a few days ago.
Very often we hear in this context how important it is to offer break-out rooms, matching bots, coffee bots, games, and many other things that turn even the most avid pencil pushers into true remote workers. I'm a big fan of many of these artifacts and love to constantly come up with new games to keep colleagues happy. But when I look beyond that, I'm all about less spectacular-sounding concepts. I'm sure that, fundamentally, it's all still about good collaboration.
My answer to the question of what it takes is therefore that we need openness, respect, and trust. That we need agreements and necessary tools for collaboration, with a focus on communication. That we need stakeholder buy-in for these agreements. We need everyone to develop good time management skills. I explore these different aspects in the next sections and try to share some specific insights:
Openness
(as the ability to accept other perspectives and to collaborate)
is more important in the virtual world because communication is fractured across multiple channels, and it is so much easier to be prejudiced against others as a result.
We create openness with coaching. On my team, everyone has coaching partners, and those pairs change every 3 months to build a plurality of perspectives. We see each other weekly, and when there are challenges, we explore together situations, meetings, conflicts, tasks, etc… The goal is to learn to engage and accept other perspectives.
We create openness with retrospectives because they are the best ritual for creating dialogue and engaging with others. Usually, these meetings are to talk most about what's not working, with the goal of finding a common solution. We used to use GoReflect, now RetroTool, and like to get inspiration from Retromat.
We celebrate good collaboration and wins. We always try to look for the biggest stage in Microsoft Teams for celebrating successes. By doing so, we want to show everyone that we can achieve way more together than alone and encourage our colleagues to be more open with their teammates.
Respect
(as the ability to treat others as equals)
comes from accepting the fact that others who can do different things than we can, do just as important things as we do.
We communicate in projects mainly in MS Teams Channels and less in private chats. In the virtual world, back-channeling (that is, folk disconnecting from the group conversation by starting their own separate conversation) goes much more unnoticed than on-site, and that's why it's important for us to create forums. We are very concerned that everyone who works together also has access to the same information, because added value can most of the time be paraphrased as expertise meets information.
Our work is described and discussed as asynchronous communication in JIRA, where everyone can read it. Thus, everything is accessible to all. In principle, all designers can look at the IT tasks and vice versa, and that is very important, because we all evolve whenever we can think outside the box, and that happens mostly in dialogue with each other.
We make sure to celebrate successes in heterogeneous groups, especially the successes of the few against the many (e.g. one designer vs four developers). Like this, we hope to encourage everyone to go against the tide whenever it makes sense, because the tide itself is very likely to follow suit.
We take advantage of all opportunities for our teammates to learn from each other and learn to understand what each other does and how they work.
Trust
(as an opposite of control, micromanagement, discomfort at the thought of someone else doing one's work)
is important because we no longer see each other. The virtual can easily become a chance for blackboxing, and many organizations suffer greatly from that.
Trust, in my experience, comes from successful collaboration. Celebrating shared successes is correspondingly important for teams.
Taking advantage of quick wins is essential for new team members. If we can make those possible, they are more easily accepted and feel very comfortable in the new groups.
Games also help a lot: whether all participants of a call form a shape together, break out of escape rooms, or have fun in virtual group games with or against each other – games always enable new contexts in which teams achieve successes. Situations generated in games often have the same characteristics as stressful situations out of the everyday. This makes games a great medium for learning that it's ok to experiment and try until you succeed. I will myself never forget how, this Christmas, after solving the first riddle of a game in a group of five, we all instantly felt like the best team, even if we never worked together before.
Agreements and tools
We use Confluence for documenting, Jira for structuring work and communicating progress, and Teams for general communication. An army of smaller services (plugins for various functions like controlling, tracking, team planning, and connections to CRMs, cloud systems, etc.) are also floating around, but the three platforms are the main ones.
We've been doing this for years, but currently we're learning a few things: the pandemic has accelerated the dialogue around tools, and that leads to hype around new tools all the time. Surrounding yourself with many tools is a short-lived pleasure that very quickly degenerates into unclear, dispersed communication. It's important that we stay focused there, because otherwise we're just making it harder for ourselves to collaborate, but it's equally important that we stay open to the discoveries that make our work easier.
2020 was the explosive year of digital whiteboards. It's very helpful to visualize what is being said because we usually find that we bring different perspectives even as we use language.
The calendar became very central for everyone last year: wherever we used to write, call, visit, meet by chance, have a smoke, go for a walk, or have a meal together, now setting up a video call frames everything. This is tiring, but very easy to manage if you perceive the calendar as a central gate-keeping element for work time. Along the way, this also helps to separate work from non-work, to say no, and to structure much of the things that can potentially become uncomfortable in the solitude of home-office.
Self-organization, along with that, is also very important, and helps staying focused. We use taskboards in Teams for everything that isn't captured in Jira, and everyone who participates is happier and more lighthearted.
We are even in the process of moving risk management to these taskboards, as the risks in our projects become much more visible there than hidden in Excel spreadsheets.
Buy-In
All these tools work best when we all have common agreements around them: from self-evident rules that a meeting should not be overbooked without asking, to agreements (we call them Tools and Rules) about what types of communication belong in which channels, to instructions on how to prepare meetings, what the tone of the conversations should be, etc…
All of this only works, however, if enough of us are convinced and accept slight adjustments to our personal ways of working in order to function better as colleagues: that is, if we stop seeing ourselves much more as individuals, rather than as members of teams, and realize that in spite of physical separation, we are best when we are together.