Campaigning
Activations that matter
What can it do for you?
Let's say you need for a new product to launch an impressive campaign with strong hero content, a landing page, and meaningful content in line with an already‑established influencer‑inbound campaign? No problem! In campaigning, we realize complete ideation and rollouts of holistic campaigns from digital to classic. We support brands with big ideas, concepts, creative and content strategies, image and advertising campaigns, storytelling, art direction, copywriting, and adaptations.
Services
Communication strategy
Communication strategy
A good strategy projects a clear roadmap. For this, we define target segments, develop personas and create meaningful user journeys based on real‑life insights to shape them into relevant user and consumer storylines. Staying relevant to this moment in peoples' lives, is crucial for all communication assets.
Creative ideation
Creative ideation
A good idea is the prerequisite of a successful campaign. Depending on the strategy, we develop big ideas, holistic consumer and user campaigns, and specific hero content. Finally, a complete set of assets is fed from those big ideas, executed for different touchpoints and media ecosystems.
Campaigning
Campaigning
We love to create ideas as much as implementing them. At campaigning, your brand gets full‑service agency coverage: We create complete campaign development and rollout under one roof, from media‑neutral ideation to full‑service production for every critical digital and offline touchpoint.
Websites & landing pages
Websites & landing pages
We are experts in servicing brands with their digital needs for websites, product‑specific landing pages, communities and social media touchpoints. From ideation to UX, Visual Design, Art Direction, and Copywriting, our digital projects are the result of a seamless collaboration of our specialized creative units.
Banner campaigns
Banner campaigns
We love the classics as well as cutting‑edge technology. Banners are the perfect melting point of all possibilities as they open up spaces for innovative solutions between performance and awareness. From classic website banners to sponsored ads, geofilters, and innovative social media formats, we love to create them and deliver measurable results.
Word‑of‑mouth campaigns
Word‑of‑mouth campaigns
Established brands and products as well as new releases rely on user ratings and reviews. We are specialists in developing effective WOM campaigns where we engage with users and consumers about their experiences with products and services. This way, we improve product visibility, brand perception, and sales.
Facts from our projects
2,4 times
more reach for the same budget*
*Current values following the cross-channel brand relaunch of an FMCG provider
A selection of our realised projects
Contact us now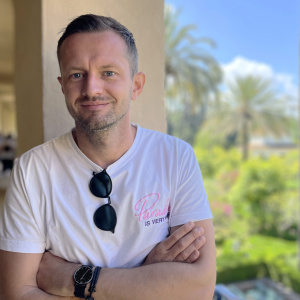 Martin Franz
Creative Director
Request it now: your campaign development workshop