User Experience Design: the design of user-brand interaction
User Experience Design simply means: We look at a problem or a need from all angles and develop suitable solutions for digital products that enrich users' everyday lives and strengthen customer loyalty.
User Experience Design is not only about creating good user interfaces and ensuring usability. User experience is much more comprehensive and starts with the requirements and functions that a digital product should bring with it. UX designers must always ask themselves what the success criteria are for their future users, so that they will be happy to use the user interface later on. At best, interaction with a digital system is like a good conversation: the user is entertained, receives feedback and ends the interaction with a feeling of satisfaction.
User interfaces are the representatives of your brand
User Experience Design is becoming increasingly relevant for brands and companies – because in the course of digital transformation, the interaction between people and machines is increasing massively. Complex processes and the combination of different interfaces should therefore be more intuitive than ever. Such user interfaces are increasingly becoming a competitive advantage and are representative of the brand the system provides (interface as a brand).
As translators of various requirements, UX designers reconcile user needs with corporate goals. This results in innovative products and functions that increase efficiency in everyday work or customer satisfaction, for example. And satisfied users are loyal employees or loyal customers – a real benefit for any company.
User Experience Design at Cocomore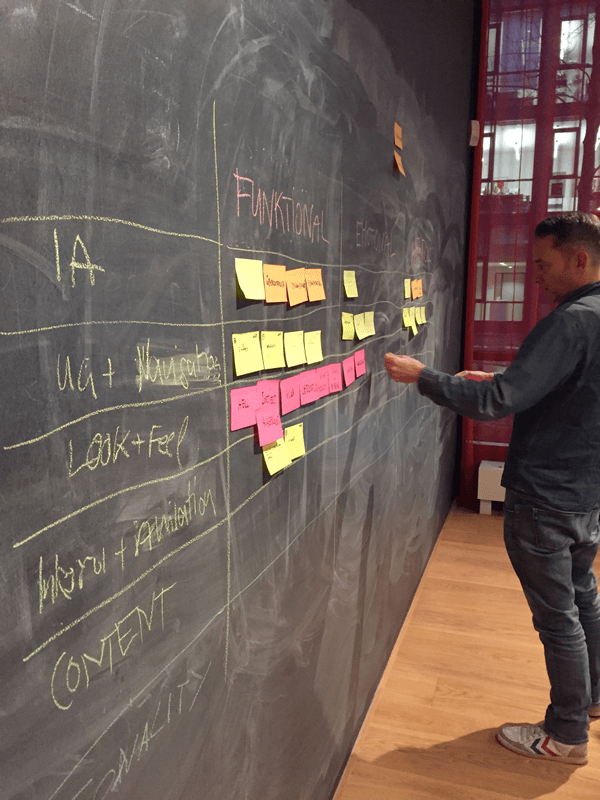 For the development of a new interface, we at Cocomore use design thinking methods – so we dive deeply into user needs and company philosophies from the beginning to the end of product development. And inspire our customers with the necessary balance of empathy for the user and understanding of brands and strategies. Our UX team works interdisciplinary from the very first minute and also develops features and possible ideas in co-creation with you: You bring in the expertise from your company, we bring in the user perspective and the technical know-how. With this integrative and holistic approach, we involve all stakeholders in the product development process.
A wealth of possibilities and empathy as a method
Even if the customer requirements and topics differ fundamentally each time, for us the analysis of the actual task is at the beginning of a project: What challenges do the users face? What problems arise in the current usage? Which hurdles have to be overcome, which gaps have to be filled? And which interface is required? The abundance of possibilities makes it difficult to say directly which product is suitable for the solution of the requirements. Should it be an app, a conversational interface or possibly an augmented reality application? The spectrum is wide and continues to grow thanks to the technical possibilities. This makes it all the more important to use the right technology to answer the right questions. For the analysis phase, we use a broad method set of expert reviews with EyeQuant, requirement workshops, in-depth interviews and contextual inquiries, trend analyses, user journey workshops or design sprints.
Design principles in product definition
We prioritize the insights gained in the analysis phase and develop the first idea scribbles from them. Because only ideas that have been put on paper can be discussed. We translate brand values into design principles in an interdisciplinary team of creative planning, UX, visual design and content strategy so as not to proceed arbitrarily and especially not to neglect the positioning of a brand in the interface. They serve as guidelines e.g. for wireframe creation and the definition of interactions, for the visual design of the UI and for the creation of the required content including tonality. This guarantees that any location of a function or its coloring in the interface remains justifiable.
Based on the Atomic design principle, we define the necessary UI elements and modules and capture the first interaction patterns, so-called patterns and click flows. Because a single screen or a state of a module is only a snapshot in an interface, which is already changed with the next interaction of the user. We have to think through these different states in advance, simulate them with first prototypes and iteratively optimize them.
User Research as a quality check
The measurability of usability through quantitative and qualitative testing methods accompany the development process. Already for the first idea on paper we check the results with real users. Be it in simple desk tests in the office, qualitative usability tests in the laboratory or remote tests with high numbers of test persons. After the launch we support the permanent product optimization in A/B and multivariant tests in order to achieve valid and high-quality results. In addition to increasing conversion, the focus here is above all on the positive experience – i.e. the avoidance of sources of error.
Development of brand-appropriate design systems
In the development of digital products we consider the wholeness of systems. We not only look at the requirements of an interface, but also see the product in the cosmos of its overall communication. When developing design systems, we keep an eye on the brand-specific orchestration of interfaces such as responsive websites, apps or interactive touch systems in the omnichannel. For the user it should not matter whether he is interacting with an artificial intelligence or visiting the company's website. The holistic design of the interaction between user and brand is the focus of our user experience design process.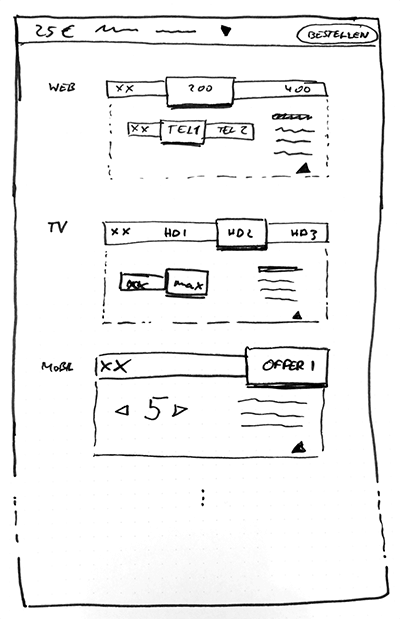 Our expertise is not only available to our customers, but also to future UX experts: At Aachen University of Applied Sciences and Cologne Technical University, our employees teach on topics such as design thinking and interaction design. With sessions on requirements development with personas, wireframing for app development and prototype development. In addition, we provide valuable and practical feedback to students of the Aachen University of Applied Sciences on bachelor's and master's theses.
Expert Reviews

EyeQuant Analysis

Requirement workshops

Research

Shadowing

In-depth interviews

Design Sprints

Kano Analyse

Design Thinking

Personas

User Journeys

Lean UX (User, problem, solution)

Task Analysis

Interaction Design

Information Architecture

Interaction Principles

Design Principles

Animation Principles

Atomic Design & UI Kit

Wireframing

Wireflows

Prototyping

Use Cases

User Testing

Creation of guidelines

1:1 User Testing

Remote Testing

MVT (Multivariate tests)

Evaluations and optimization
How can we support you?
Let's talk about it.