Drupal Camp Frankfurt 2014 - From the orga point of view
One thing first - this blogpost hasn't been written by the complete Orga-Team of the DCFFM. There were not only Cocomore colleagues involved in the organization, but also other community members from Frankfurt and its surroundings. Therefore to all of these people a big thank you first! Working with you was great fun, and surprisingly we hardly had any fights despite of all the hard and stressful times ;) So Carsten, Walter, Rene, Baddy, Christoph, would be a pleasure to do it again!
But as quite a number of us have been busied with organizational stuff and we didn't participate in the camp, its sessions etc. like visitors, here the camp from our point of view.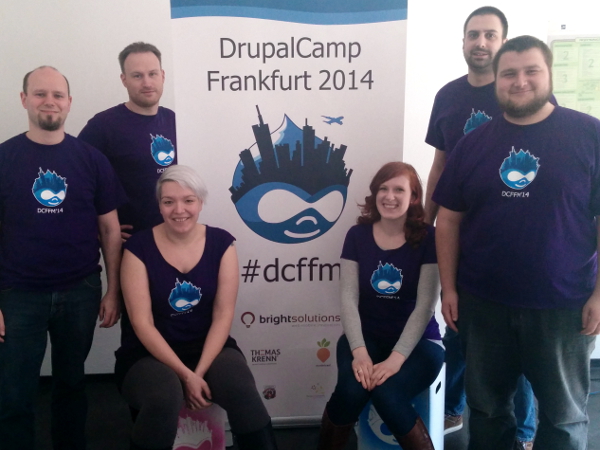 While many of the attendees have been on their way to Frankfurt on Friday, we were already working hard. Stuff as t-shirts, cans, cups, badges, ... had to be carried to the university of Frankfurt. Drinks were delivered, everything had to be built up or stored in the storage room and it was quite a jumble. A big problem that we had at the university, there haven't been enough power sockets. But when you invite 200 devs it's obvious that quite a number of devices have to be supplied with electricity - so we had to lay lots of cables and sockets in the lecture rooms and to the sponsoring booths. Only Karl was doing mental instead of physical work - he took care of the code sprint that took place in our office at Cocomore. Here we discussed how to contribute best to Drupal and its modules and it was explained, how contributing to Drupal works. Some people were given their first issues on drupal.org to train contributing on real examples.
Friday evening we met with other Drupalistas at the Irish Pub for the warm-up socializing. We all were really relieved that so many people joined - we feared before that we're only 10 people or so. But as said, luckily it was not like that and it was a really nice evening with many well-known faces as well as some new ones.
Saturday it was getting serious, we had to struggle to get out of bed to be at the location at 8am to finish everything, as the first guests were arriving at 9am. Then it got a bit hectically - badges and shirts had to be handed out, cams and mics had to be adjusted and everyone was really busied. After our welcome-words MortenDK started with his keynote "Twig - all the new awesome" - and we could relax a bit for the first time in the morning.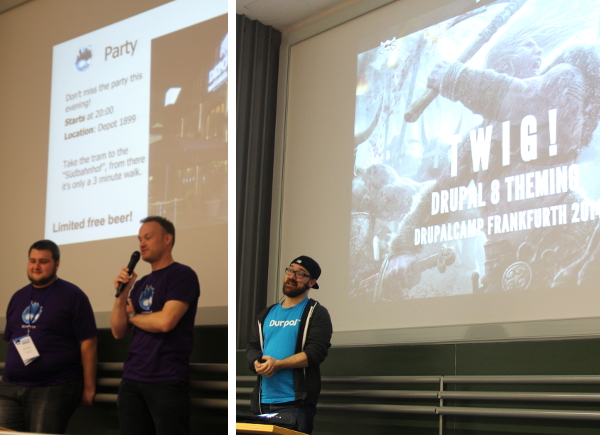 The keynote was a success, and we're really happy that Morten followed our invitation to our camp. Afterwards there was the obligatory group photo, more sessions, and the day was taking its course. When trying to tow the "Gulaschkanone", that delivered our soup for lunch, in front of the university, the guys had to sweat a bit again, but everything went smooth without any big disaster.
Saturday evening we met for 100l of free beer at the Depot 1899 in Frankfurt, and afterwards we conquered the Clubkeller with 20-30 people. Not everyone liked the music, but in the end we all had lots of fun, and so it ended as expected - the evening was longer and boozier than the one before, so getting up in the next morning was even harder.
Luckily we prepared most of the things for Sunday morning on Saturday evening already, and so we could start smoothly into the day. And as we haven't been the only ones that were a bit slower as normally, that probably wasn't that bad. The keynote on Sunday was by Nils Adermann about Composer, and we think it was a pretty good choice too. During the sessions we took care about the physical and technical well-being of our guests, and in the afternoon we started slowly with cleaning up. Fortunately there are many helpful hands in the community, and so not only the orga team was cleaning up and carrying stuff from A to B, but there were many other helpers too - thanks for that!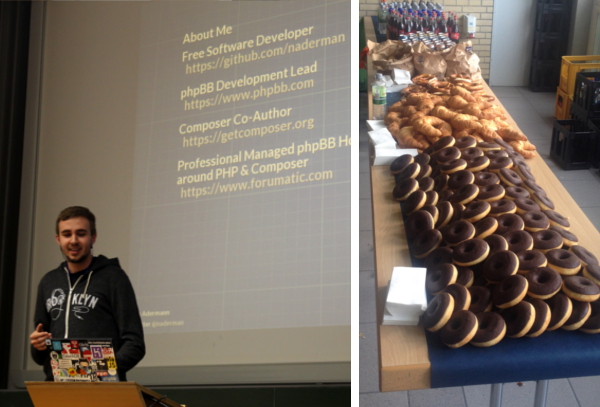 In conclusion: The weekend was great! It was the first camp here in Frankfurt, and we from the orga team were on the one hand quite stressed and thin-skinned the nearer the camp got, but on the other hand also really nervous. There were so many things that could have gone wrong. And in the end, we had 200 guests, so many sessions that we had to choose which we wanted to use (what were really hard decisions), coffee machines, recording, t-shirts, badges, everything in time, we had great speakers, the best weather you could imagine - and everyone had fun. It's really not too much to say that we all were relieved and happy. Really happy and so excited. The work paid off, and if the attendees liked it as much as we did we'd love to do it again sometime in the future. And probably the 2nd time will be easier.
As already said at other places: Thank you all a lot, you're the best!