What do Drupal and Magento have to do with George Clooney vibes? More than you may think: namely when it comes to commercial storytelling – which is getting even more interesting if you look at how the pandemic has impacted user trends of social media consumption and online shopping.
The pandemic – a driver for social media and online transactions
Marketers and e‑commerce experts are still analyzing and understanding the pandemic's effects. However, we may already say that the impact is enormous. It influences the choice you should make when selecting the right system(s) to succeed.
One of the most significant changes is the amount of time spent on social media platforms and increased screen time. The below graphic shows how the usage of social media platforms has skyrocketed in most cases and how it has even stopped the decline in Facebook usage. The increased daily Social Media intake will probably not return to pre-pandemic levels. The shown numbers represent the US, but are very similar in most countries.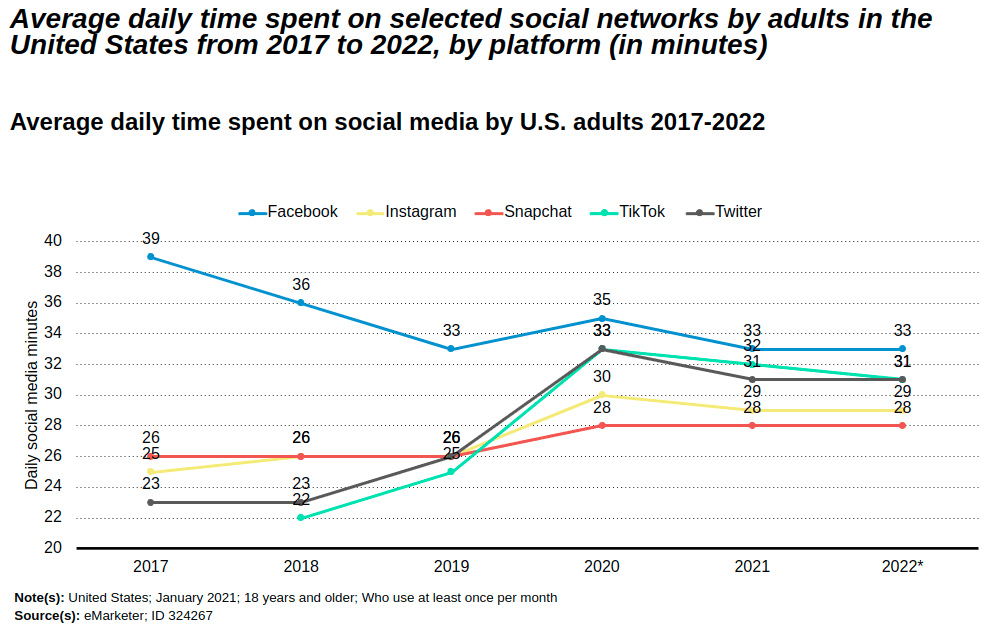 The same trend applies to e‑commerce – more and more transactions are made online. Social Media platforms like Instagram or YouTube are reacting to this and testing or already integrating shopping functionality into their platforms.
Now, you might be reading this with interest (at least I hope so) but might be asking yourself: this was supposed to be about Drupal and Magento; why are we talking about social media here?
Feelgood vibes for feelgood buys: purchasing is emotional
To answer this question, we have to think about buyer psychology. Explaining it could lead to me writing an entire book, so I'll take out one powerful principle and make it simple: people buy stories and emotions, not facts. E.g., Nespresso sells a bit of dolce vita with George Clooney sipping his espresso on a yacht at his lake house. Consumers feel some of that exclusivity (or at least buy into it) when sipping their espresso at home. In another story, we purchase recycled toilet paper not because the feeling is excellent (we all know what I'm talking about) but because we want to feel good about doing something positive to fight pollution and climate change.
The fact that stories sell products (and that great stories can only be created with high-quality content) is also why social media is such a perfect sales touchpoint. That fact is represented by the growing number of referrals from social media to e‑commerce sites, shown below: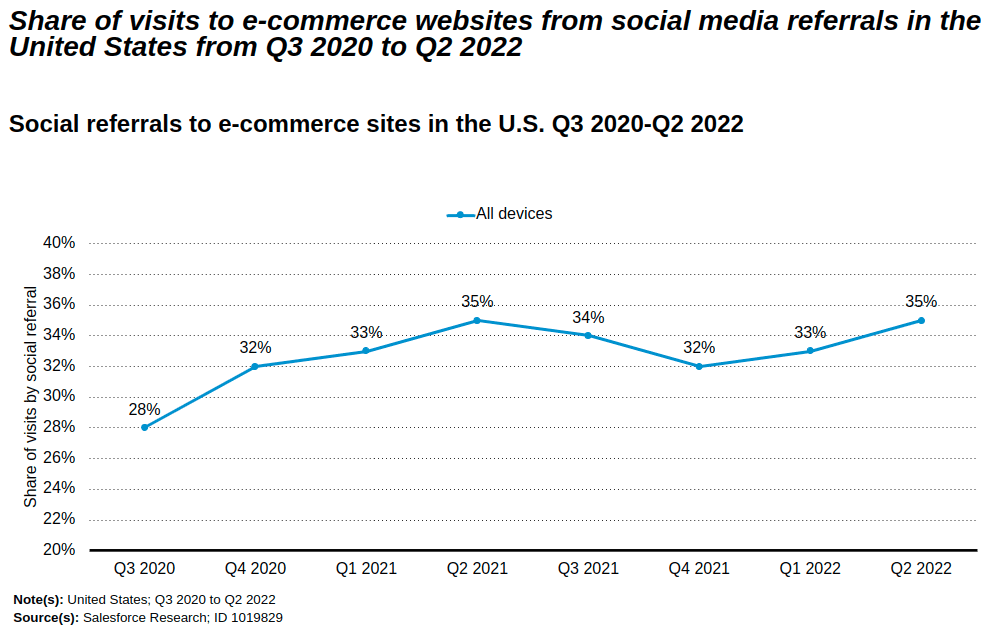 Travelling the social-to-shop journey – without getting lost
Now, we all know that the referral (and the "jump" from one system to the other) is a critical one. These "jumps" usually lead to bounces (for different reasons), which is what every UX Designer wants to avoid. But since e‑commerce functionality is not fully integrated yet (and "conventional" e‑commerce is on the rise as well), we as marketers and e‑commerce owners need to find the perfect system to 
a) prolong the storytelling frictionless from Social Media platforms to our online space (I'm not saying website or shop because I believe it should be both at the same time) and 
b) have a space that can create and tell those stories by itself to retain and start consumer relationships.
To achieve this, you need a system that:
Is easy to handle (even without devs)

Can display a great variety of content in different formats

Can create stories (with interaction)

Has frictionless and fully integrated e‑commerce functionality (not only for the user but also for the people running the thing)
If you're starting the journey of building the perfect system to create and host unique storytelling content with the capabilities of selling frictionless, there would be a couple of good options on the market. However, the market is moving away from single application solutions as they usually are not flexible enough to reflect businesses' unique requirements.
Flexible and frictionless: composable e‑commerce with Drupal & Magento
That is why we're moving to composable commerce, which means you instead think of best-of-breed and compose the right system for you. That makes even more sense considering that most companies already have either a content management- or e‑commerce system. If you combine that approach with proper MACH architecture (Microservices; API; Cloud; Headless), you have an excellent basis for success. Looking at systems capable of being used in large-scale environments and considering all the arguments mentioned above, we built a prototype integrating the Drupal CMS with the Magento commerce system.
Drupal can be customized for commercial storytelling as your business requires it – even more when you use it decoupled with a JavaScript framework like React or Vue.js. It also means that a massive community of developers keeps updating and improving the system while adding new modules. At the same time, the multi-language content management capacities make it the perfect platform for large multi-national and medium-sized businesses.
Magento, on the other hand, is one of the leading systems when it comes to e‑commerce. It has a smooth and intuitive commerce backend that can easily integrate various payment methods and has useful out-of-the-box analytics features – things you want for your e‑commerce system. The fact that it's open source (just like Drupal) also means that you'll be able to fully integrate it via API with whatever ERP system you're using (assuming it allows connecting via API).
Combining both systems and integrating them into your IT infrastructure is possible with not much effort. This combination can become the basis for the content-rich experience which makes customers buy. An experience that will lead to a lower bounce rate, a higher retention rate, and, if you do some more things right, to higher basket values and more sales overall.
Get in contact with Manuel, if you're looking to build a composable commerce solution for your business.