Recap: Drupal Camp 2017 in Frankfurt
The DrupalCamp Frankfurt 2017 took place on April 22 and 23 at the university Frankfurt/Bockenheim. But it kept some of us busy for quite a while in advance.
My colleagues Jan, Kerstin and I were part of the organizational team of the Drupal Camp in Frankfurt, and together with other members of the Drupal user group Rhein-Main and supporters from the Drupal e.V. and the community we did our best to make this weekend a great event for everyone involved. We already started with the rough planning of the event back in 2016, but it was not until the beginning of this year that we worked out the details. It is funny how – after months of planning – the event comes nearer and you suddenly realize that you're running out of time. As usual when organizing an event, the last few weeks before the camp have been the most stressful for us, with everyone on the edge sometimes, a slack channel that didn't stop blinking and lots of Google documents where we shared information about finances, sponsors, todos, …  But in the end, we got everything important done and still liked each other – I guess this already can be considered a success ;)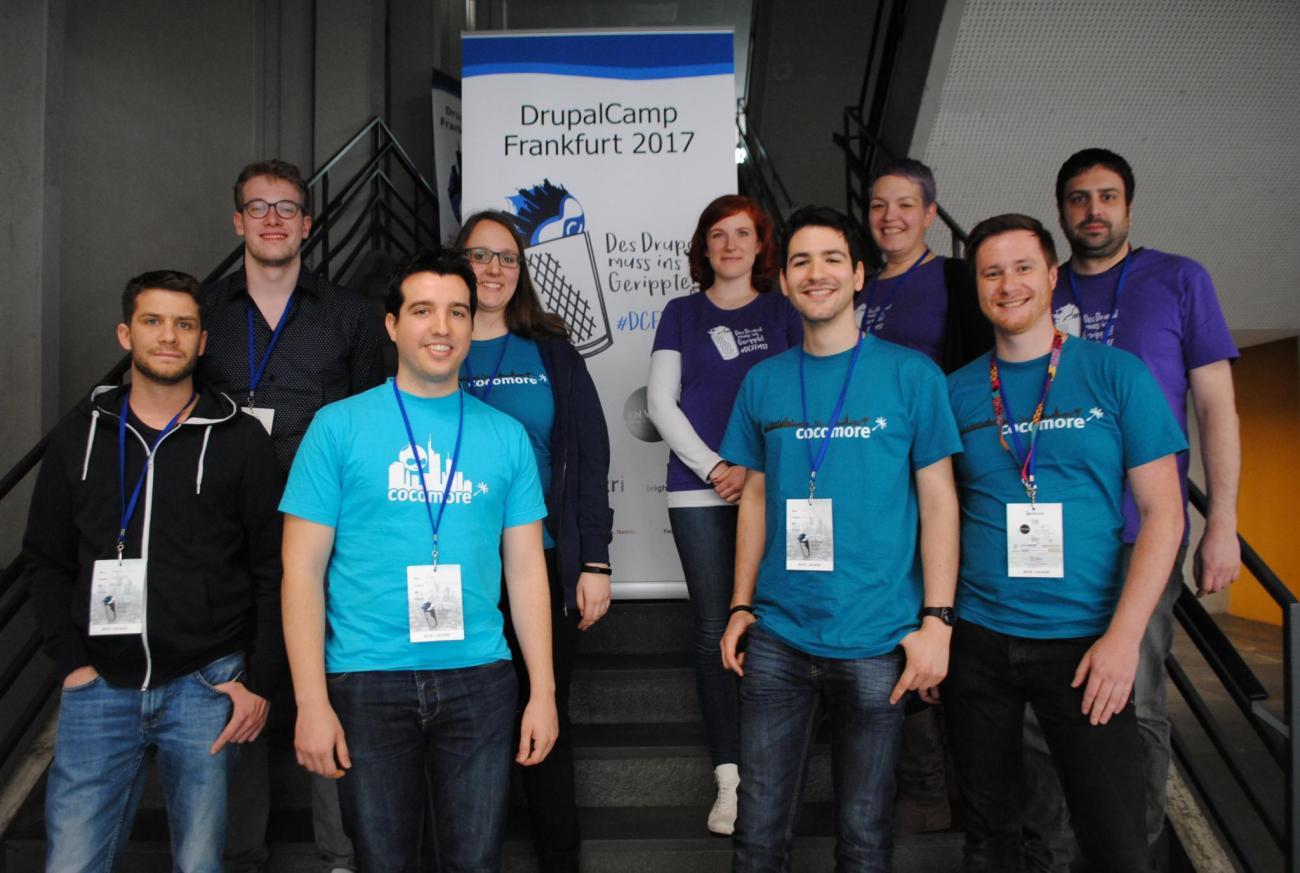 For the organizers the camp started on Friday afternoon, where we prepared everything at the university, for some people at the extended sprint, and for the rest it started on Friday evening at the Irish Pub. It was great to see all these Drupal people again, and we were really happy that so many joined us on Friday already.
On Saturday we started with our welcome session. Afterwards we heard the keynote from Antje Lorch, who talked about "Why you will be contributing to Drupal" and the importance of not only taking the advantages of an open source software, but also giving back – and that everyone of us is able to do so, not only coders, but also people who want to add translations, documentation, review patches, test issues etc.
After that, the regular sessions started – and I think we had some interesting topics for everyone. We've been really happy how many people submitted their session, so thanks again to everyone who shared a topic with us! Unfortunately I didn't find the time to attend many of them, as there was a lot to do like welcoming attendees at the registration desk, checking the session rooms, refilling drinks, cooking coffee, preparing food, and just being around to help people who had questions. But of course I didn't miss the session of our Cocomori Jose Luis Bellido, who talked about "Get the most out of display modes". It was his first session held in English ever, and he did a really good job!
Saturday evening we had a get-together at the restaurant and bar Depot 1899 in Frankfurt, and the night ended in the well-known "Clubkeller" – it seems to become a good tradition.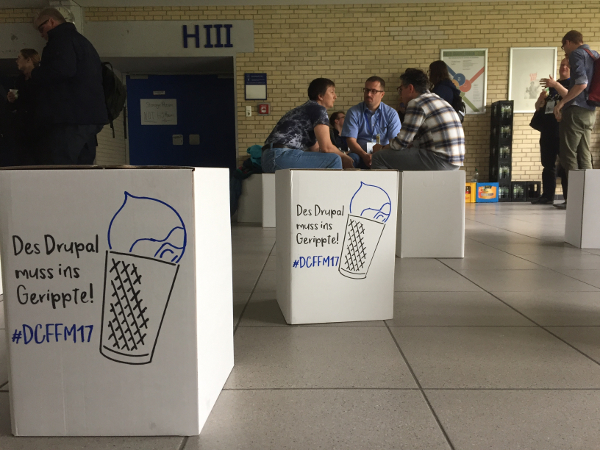 The start on Sunday was a bit hard but still we managed to set up everything in time. Again the day was packed with interesting sessions and a lot of interesting talks with other community members. On this day I could only attend Ashish Jain's session about "Women in Tech/Drupal", where of course I have some personal interest in the topic. He talked about the opportunities that are given to women by his company based in India, and I think they already achieved a lot. Making women feel welcome in the tech area is an important topic, so I really appreciate that he came up with this session.
Some of our colleagues have attended a Drupal Camp for the first time. Some of them are real Drupal newbies, others already have good knowledge about Drupal. And I'm especially happy that all of those first time visitors liked the camp and the atmosphere a lot. Everyone found sessions that fit their level of knowledge and everyone enjoyed her/his stay – I think this demonstrates quite well how welcoming the community is and that everyone should take the chance and visit a camp or a local meetup if it's somewhere near her/his place.
After all I'd like to thank the other members of the organizational team, all the helpers and supporters from the Drupal e.V. and the community, the speakers and sponsors, where of course I'd like to give a special thanks to Cocomore not only for being a silver sponsor but also for allowing us to dedicate some time to the organization of the event, and last but not least to everyone who attended. Without you this wouldn't have been such a great weekend. See you soon at some of the following events like Drupal Business and Community Heidelberg on July 14-16, Drupal Summer Barcelona on June 29 to July 2 and DrupalCamp Schwerin on October 21 and 22