"Hey Siri, what are the current SEO trends?" This could be one of the questions you could use to find this article via voice search.  
The number of German households with a smart speaker, or a voice assistant, has grown by leaps and bounds in recent years, up to 33% in 2021 alone. Then, around 52% of German online users had a voice assistant. Now, one-third of German households have one, and the trend is still rising. According to forecasts, the number of voice assistants in use worldwide is expected to grow to 8.4 billion by 2024, more than the world's population.
They are not just for smart-home use, but also in around 41% of cases for voice searches. Meanwhile, almost every second German regularly searches by voice via smart-speaker, mainly via smartphone and tablet. This could permanently change the SEO landscape.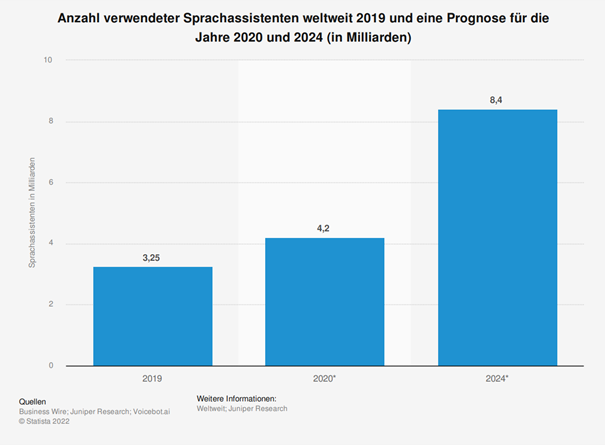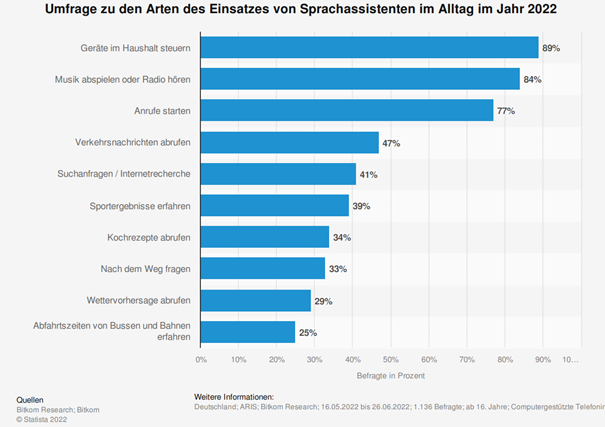 What does voice search mean?
Voice search means the voice-controlled search by Google, Apple or Windows voice assistants via smartphones or smart speakers. The devices can even answer many questions directly by voice or display websites on the smartphone screen. The advantages:
Voice search enables multitasking at home or even on the go in the car via CarPlay which, for example, around 52% of 18- to 34-year-olds use regularly.

People with a visual impairment can easily have answers played out.

Questions can be asked without picking up the smartphone.

Results are available quickly.
The disadvantages from a marketing point of view:
Speech answer output without a redirect or website display does not drive clicks and conversions.
Ads are not considered, even if they are in the non-generic number 1 position on Google through a SEA campaign.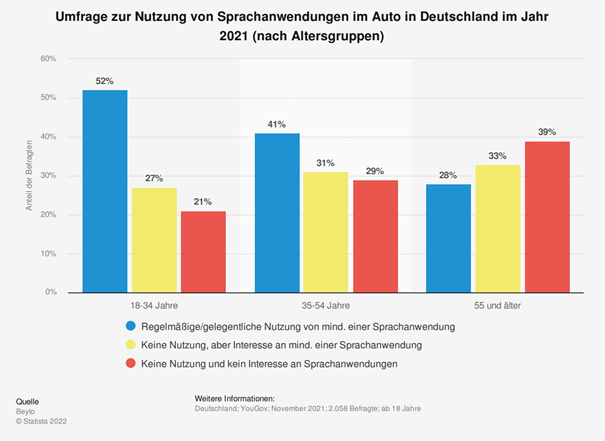 How does voice search differ from classic search?
Voice assistants are changing users' search habits. This is mainly due to how users communicate with the voice assistant when searching:
Search queries are phrased with an average of at least seven to nine words, whereas classic keyboard searches (without voice input), rarely have more than two or three words in a row.
By addressing Siri, Alexa, Cortana and co. directly, questions can be asked like to another person. It is therefore a type of question-answer communication. Example: An SEO topic search query and voice search would probably be in classic search "voice search SEO" or "SEO voice search". However, via a voice assistant, these search queries tend to be worded out, e.g.: "Hey Siri, how does voice search affect SEO?".
What does voice search mean for SEO strategy?
For websites to appear in voice assistant responses and suggestions, they not only need to be SEO but also voice search optimised. The fact that voice assistants ask and formulate search queries differently also changes the search results.
This means for your own SEO and the use of keywords:
Voice search-optimised articles and websites should include phrases and questions, so-called long tail keywords and "w-questions". This is best done in the headlines, but also in the H2 and H3 headings, as well as the metadata. This increases the likelihood that voice assistants will play them out in voice searches.
Websites should be optimised for mobile applications, as most voice searches currently come via smartphone or tablet.
Accordingly, website loading time must also be checked and, if necessary, improved because people who use voice search want a fast search result output, either via mobile phone display or voice. The average loading time of mobile websites is still 15 seconds. This is far too long, it should not be more than three seconds so that users do not jump off, i.e., stop the voice output or press the smartphone manually.
How do I find the right questions for my content?
Voice search can help better understand users' search intentions. The first step is analysis, just like with classic SEO optimisation:
What are users looking for to get to my site?

What questions should my content answer?

What do users want to know about buying products or their benefits, and about the website content?
Buyer/consumer personas help to formulate the questions. A persona stands for a specific target group, the more detailed the persona description, the better content and product descriptions can be tailored to the respective target group.
Answers should be as short and as to the point as possible. The majority of voice search responses come from featured snippets. These are search query answers that are shown at the very top (at position 0) in the SERPs in a kind of box and are read out or displayed during voice search. Important W-questions and clear answers are more likely to appear here and as a result also in voice search. This kills two birds with one stone and optimises your content for featured snippets.
On the fly: How can I optimise my content for voice search?
Create FAQs and content that answers questions. W-question tools can help with the search for questions.
Correctly place and highlight questions in H1 and H2 with long-tail keywords instead of short keywords as in traditional SEO.
Write content in ordinary language. This makes the content appear more natural in the voice output and matches the user's communication with the voice assistant.
For local SEO, optimise entries on the Google company profile as well as Yelp and Bing. Local SEO means that you can be found better in search engines with your local business, for example, if a user is looking for a restaurant or a shop in the immediate vicinity. Entries in the vicinity are displayed on Google, for example, via organic search results, so the better a company's business entries are optimised, the higher the probability that it will be visible there.
In the end, however, as with any new technology, there is no getting around testing. SEO optimisation for voice search is still in its infancy and will certainly continue to develop strongly in the coming years. When looking for the right strategy for your own website, you should therefore be flexible and adapt frequently.