SEO trend 2023, number 1: Mobile First
Admittedly, most people will ask themselves, why is this still an SEO trend for 2023? Google, after all, already carried out its mobile friendly update in 2015, expanded it in 2019 with the mobile first update and since then has been ranking down websites with non-smartphone optimised content. Despite this, or precisely because of this, mobile first continues to be enormously important for SEO optimisation. This SEO trend is here to stay, after all, 80 % of searches are currently conducted from mobile devices.
Our top tips for this SEO trend:
Test your website optimisation with this free Google tool.
Check if Google can access and render content on the website. To do this, the same meta robots tags must be used on the mobile website and the desktop version. Also, there should be no lazy loading after user interaction (tapping, clicking, swiping).
Google crawler must not be blocked by robots.txt, otherwise the website cannot be crawled.
Optimise (mobile) website loading times. How fast a page loads can be seen via Google PageSpeed Insights. Also, loading time is part of important Core Web Vitals, which have been a Google ranking factor since June 2021.
The website must offer a good user experience (UX), since May 2020, Google officially includes UX in the rankings, for example, easy navigation.
SEO trend 2023, number 2: From BERT to MUM
For anyone with question marks in their eyes, BERT and MUM are easily explained. BERT means Bidirectional Encoder Representations from Transformers and is a Google algorithm that is now complemented with the MUM update (Multitask Unified Model). In the future, Google's search technology will understand content as a whole, including audio, video and image material, a further step by Google towards becoming a semantic search engine.
Google itself answers, what this means and an example. If someone has the following search query: "I have already climbed Mount Adams and would like to climb Mount Fuji next autumn. What should I do differently this time to prepare?" Currently, Google cannot answer this query, or rather, not with a single click. In the future, however, the MUM update should make it possible for the search engine to understand such complex questions and provide the right answers.
For website SEO optimisation this means:
Image, video and audio content also shift more into focus and must also be provided with keywords, not just in the description, but also, for example, in the spoken text itself,

Images and videos will appear more and more often in SERPs.

In the future, searches will also work for different languages, with search results then translated into the user's own language. So, if you optimise your content perfectly, you can generate more clicks from all over the world via search results.
SERPs will also look different in the future. Users can refine their search results via three boxes.
Things to know: Users can indicate which part of their search query they are particularly interested in.
Refine this search: Suggestions are given to refine the search.
Broaden this search: This area targets search intention and includes further content in video, audio or image formats.
SEO trend 2023, number 3: Featured Snippets & Long tail Keywords
More and more results appear on Google as a so-called featured snippet in position 0 of the search results, i.e., right at the top, with the answer directly below. The advantages:
Featured Snippet results receive the greatest attention because of their position at 0 on Google. The snippets can contain text images, lists and videos.

Users receive their search results directly in Google. It also serves as an introduction to a topic and encourages users to click on the website.
The disadvantages:
Many search queries result in zero click searches, where users already receive the answer to their question in the featured snippet and thus no longer need to click on the website.
By answering the question in the snippet, traffic can be lost.
This cannot be solved, on the contrary with Google's MUM update, the search engine is trying to understand across the board content in text, videos, images and graphics. One trick is to use long tail keywords because the more complex a search query, the more individual it becomes and the less likely it is to appear in Featured Snippets at present. In the long run, however, the MUM update will change that too.
So, SERPs and Featured Snippets will look different in the future, but not disappear altogether. We should look at featured snippets as an opportunity and optimise content accordingly.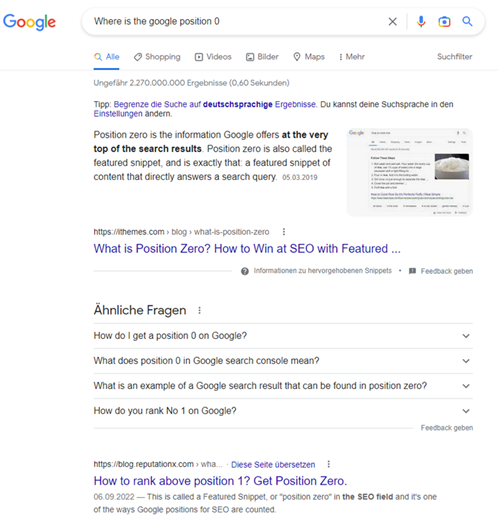 SEO trend 2023, number 4: Video content
Lately, results in video form are often far ahead in searches. Generation Z in particular use TikTok, YouTube and Co. not only as a social media platform, but also as search engines. This is addressed in a separate article on our blog.
What does this mean for the website SEO optimisation?
On the one hand, it is becoming increasingly important to offer snackable video content.

On the other, it must also be SEO optimised to achieve top rankings.

For videos to appear in a search, the appropriate keywords should be set, not just in the video description, headline and subtitles, but also in the spoken video text.

Google's MUM update makes it possible for the search engine to understand spoken words in videos and audio files and to include them in the content evaluation and ranking.
SEO trend 2023, number 5: Local SEO
More and more people, whether at home or travelling, search for restaurants, cafés and other shops in their immediate vicinity. For example, if you are out and about and looking for shops in the area, you reach for your smartphone and get Google Maps to show you the locations. According to Google, about 50 % of users actually visit one of the shops displayed afterwards, so if you want your business to be seen on Google, you can't avoid the local SEO trend. And this is how optimisation works:
Every business should have a website that shows users at a glance, or an easy-to-use navigation, what they are looking for. A restaurant, for example, should offer its location, type of cuisine and menu online, with short loading times.
The use of keywords and local references in the website content is important. The location of the business, as well as information about the region should also be included in the metadata. It is also logical, since it is of no use for a craftsman or a restaurant to rank for keywords such as "carpenter" or "Italian restaurant", they must rank for "carpenter Rhine-Main area" or for "Italian restaurant Frankfurt-Sachsenhausen" to be found and sorted correctly by Google.
Google company profile entries (formerly Google My Business) must be optimised, including address, website reference and opening hours. With the MUM update, Google understands search intent better, for example, if you search for "best Italian restaurant", the Google algorithm recognises this as an intention to eat at a restaurant in the area and shows search results near restaurants, including the business listing.
Backlinks from other local businesses help with ranking. This is because, unlike regular backlinks, backlink provider locations also count in Local SEO.
These were our top 5 SEO trends for 2023, now it's time to implement them and optimise your website.