The best timing for online advertisement
There are numerous ways to increase product sales in e-commerce. An important question that keeps media agencies, social media executives or CRM specialists busy when planning their advertising campaigns is this: Which day of the week and what time is best to address potential customers – whether it is through banner advertisement, Facebook posts or newsletters?
To answer this question, you usually use one or more of the following sources:
1. Activity profiles – statistics on when (potential) fans or customers are online
2. Interaction data, observations or measurements on when recipients react most actively to content (e.g. with clicks, likes, etc.)
3. Competitive behavior
The first source usually distributes activity quite evenly throughout the day (9 am to 9 pm), due to the high heterogeneity within most target groups. Interaction data, on the other hand, is not always easy to figure out – but interaction with the advertising medium is definitely a sure indicator that at least some parts of the brand communication have reached the users. Going by the behavior of the competition, on the other hand, is based either on the belief that the latter knows better (synchronous circuitry) or on the hope that "shunning" promotes the advertisement memory (asynchronous circuit). Obviously it is not a sensible way to handle brands based on hope and faith, which is why I dissuade advertisers from relying on this solution alone.
I would like to plead for a fourth alternative, which is based on the buying behavior of the target group. To reach people immediately before a purchase decision is the success formula, which all sales promotion measures at the POS are based on. Traders know about these particularly effective moments and have them paid for accordingly by advertising subsidies of brand manufacturers. The question about the ideal time, e.g. for a Facebook post going live, should therefore be answered in regard to the target group's next shopping moment.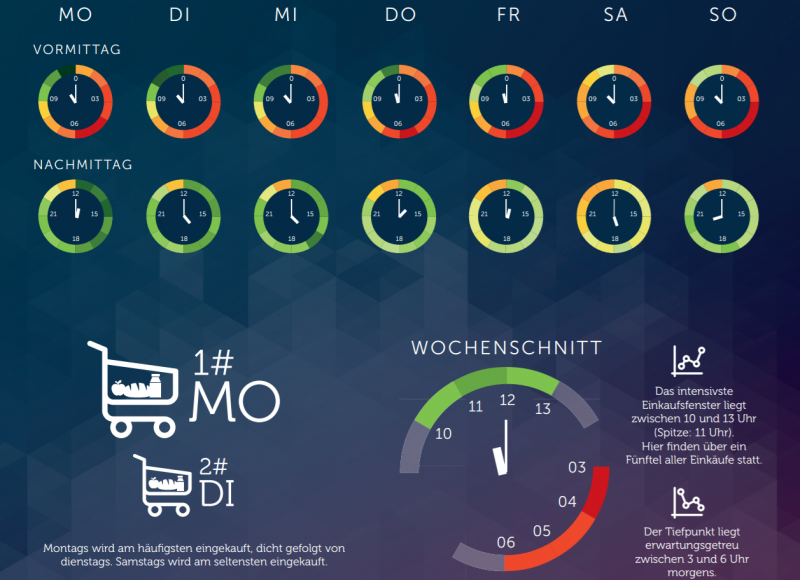 A survey of the FMCG industry has recently been published as a visual info graphic: over a period of twelve months, a total of 600,000 checkouts (purchases made) were analyzed in six online drugstores and supermarkets in regards to frequency of the weekday and time. According to the study, the beginning of the week is particularly popular for online shopping, especially in the morning/noon. The least purchases are made on Saturdays, which is most likely due to the fact that a lot of people traditionally shop in retail stores and do market visits on Saturday. This result also shows that, depending on the distribution or sales strategy, rush hours in stationary trade should be taken into account as well.
For a social media manager (e. g. for a chocolate brand), posting during the semi-popular beginning of the week is recommended: "Already looking forward to Friday on a Monday?! Rather to a bar of XYZ. Comes faster, tastes better."