Networking and inspiration – My 2017 London AWWWARDS highlights
Two days, two workshops, 20 talks – this summarizes the AWWWARDS 2017, which recently took place in London. The website awards promote the talent of the best developers, designers and web agencies in the world. That's why, as a junior art director, it has been a very special experience for me to be part of the Digital Thinkers conference for the first time to listen to inspirational speakers and share information and thoughts with colleagues from all over the world about the work as a designer. In addition to networking and a lot of new input, there was, of course, the long-awaited awards ceremony: Excellent website projects in the most varied categories were being recognized. Design, usability, creativity and content were the most important criteria for the awards. An overview of the winners can be found here. I have summarized my personal AWWWARDS highlights in this article.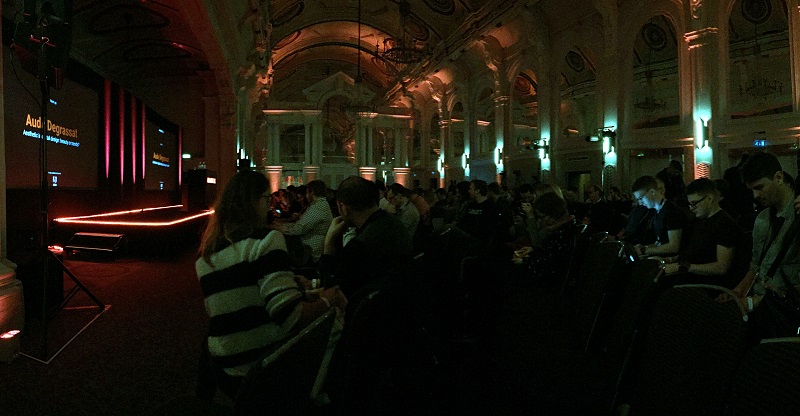 Who is my AWWWARDS-Buddy?
At the opening of the AWWWARDS, the audience had the task to make out their personal #Buddy among the many attending creative minds - a great idea, which at the beginning caused a lot of conversation among the visitors. The back of the name sign gave each participant a description of the person who was to be found in the imposing hall of Connaught among the creative minds. I was very curious to find out who was my buddy. Perhaps he was sitting only two chairs away from me waiting. I soon found him: a Japanese, bearded, web graphic artist and skateboarder. Afterwards Selfie Time was announced: Duckfaces, moustaches, filters ... anything was allowed to capture a memorable photo with your buddy.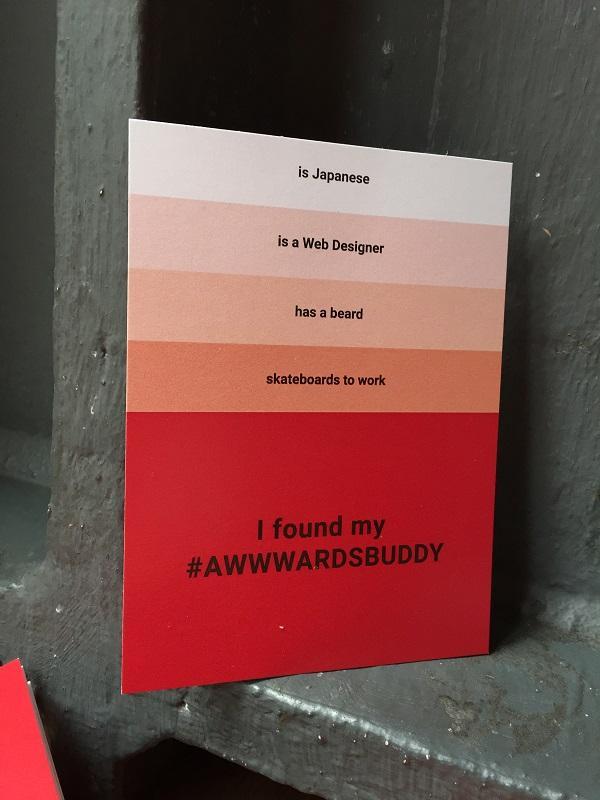 Mr. Bingo hit the mark with "Hate Mail" 
After the Buddy search game, the atmosphere in the hall was heated, the ice was broken and the crowd ready for the first speaker. And he came to the stage in shorts, Hawaii shirt, and tennis socks pulled up almost to the chin. In quick sentences and with a clear voice, the London illustrator and rapper Mr. Bingo talked about his "Hate Mail" project, which is currently getting many people excited: To draw attention to hateful commentaries on the web, he carefully draws personal insults on vintage postcards designed by him. These can be ordered online and addressed to yourself or others. Which wicked message will be sent is purely coincidental and cannot be influenced. His brutally clear drawing style, reduced to basic lines, illustrate the meticulousness with which Mr. Bingo approaches his projects. "People are more than ever ready to spend money on pointless things," the artist explained. "If they are offered a show, they are ready to throw in the coins." The artist wanted to prove this right away and went on with a rap performance to advertise "Hate Mail". This action emphasized that Mr. Bingo's main focus is always one thing: exploring boundaries and often provoking them. "Make art for people, not companies," he advises in the end, meaning that one should always see his work as a personal statement.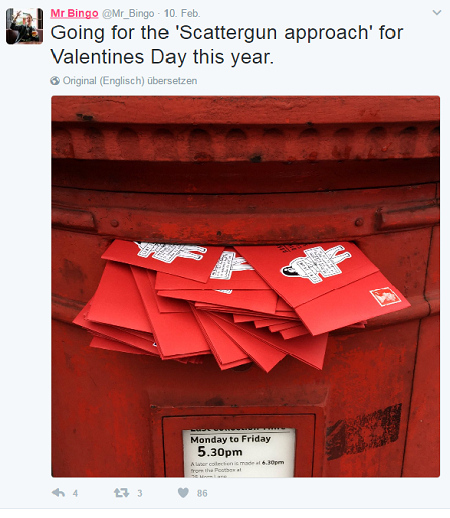 An UXer and Chatbots: Communication is everything
The latter is probably also the guiding principle of UX designer Adrian Zumbrunnen. He posed the personal question: What if chatbots take the place of a classic website and make his job redundant - where does that leave us as designers? "At home", is the response from Raphael Leiteritz, Director of Product Management at Google. This statement motivated Zumbrunnen to face the experimental challenge of conversational design. He began to explore digital dialogue systems, and equipped his Website with a chatbot. The visitors of the site do not see any conventional menu navigation, but inform themselves via the exchange of messages with the bot about the services of the UXer.
In order to better advise his clients in the area of ​​conversational interfaces, it is important for Zumbrunnen to understand how chatbots and advertising fit together. Because people do not want to see advertising, unless it's done well. Applying a product through an avatar is, in his opinion, the wrong approach. You have to reverse it and ask how you can use chatbots to make a product or service more accessible. The solution: with communication. Advertising is communication, and chatbots are, too. Experience is the key word. A brand that has its own virtual assistant that can communicate with the user, present products and asks what is being sought, or whether there are any problems with a product, does not solve tasks via the classic communication channel, but adds charm and personality. The boundary between man and machine becomes blurred.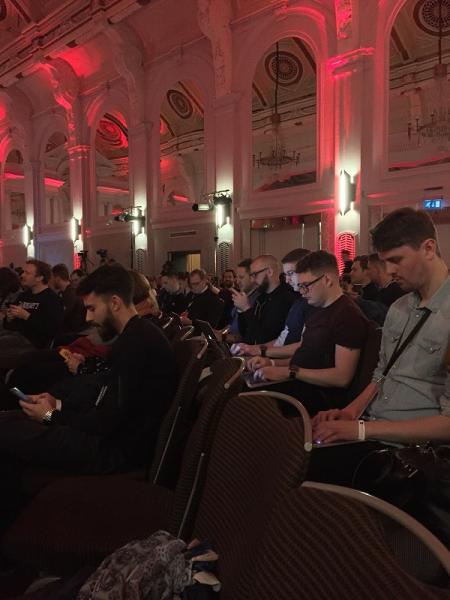 Technology as a source of inspiration for fashion, that moves
Anouk Wipprecht also wants to abolish borders and connect people. The fashion designer from Amsterdam understands technology as an important source of inspiration, with the help of which not only new designs can be created, but it can also change things. Thus her latest creation was specially developed for children suffering from ADHD. The unicorn-like wearable for the head has a tiny video camera, which records significant moments in the life of those affected and connects the neurosensor of the wearer with an Intel Edison computing module. Anouk Wipprecht explains that people with ADHD often have trouble interpreting the behavior of others correctly. This often leads to misunderstandings and means enormous stress for those affected. Her invention could help its wearers to better analyze and understand their behavior using computer technology. In this way, the device assumes the function of a teaching system or even an intermediary and makes social interactions easier for children who suffer from ADHD.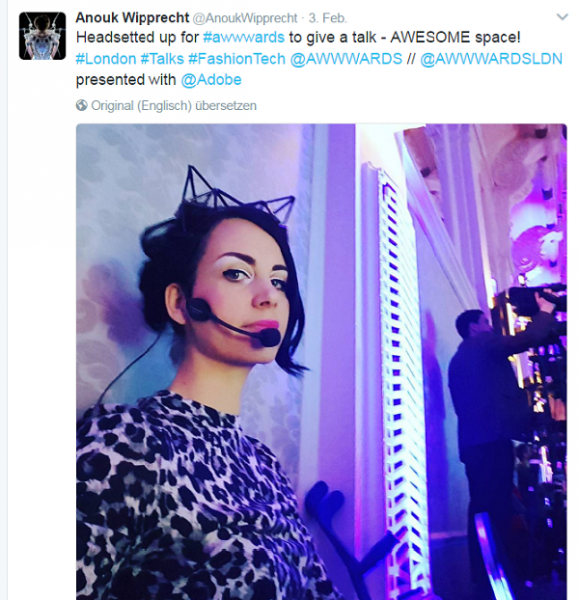 This is also a perfect transition to my AWWWARDS conclusion, because the conference has taught the participants a lot of valuable information. Having made unforgettable memories, I went back to Frankfurt – and the following AWWWARDS advice particularly stuck with me: be obsessed, passionate, uncompromising and thorough, be creative and courageous in what you do. Always.