Better social media marketing with Facelift
By now almost every business in the B2C sector has a Facebook page. Because of this, it gets increasingly difficult to remain visible to users and to stand out from others. One way to offer more value to visitors of your own page are apps that can be integrated into Facebook. Facelift is a provider for the corresponding software. We will demonstrate what's possible with it based on an example.
Apps are small applications that are integrated under a tab on the Facebook fan page. There is a large range of contents provided for companies: From sweepstakes or voting's to the inclusion of content from other social networks like Twitter, YouTube or Instagram, almost anything is possible. Altogether there are more than 50 different software selections available on Facelift.
One example: With Facelift, we have created a slot machine for a client (sweepstake in the form of a one-armed bandit) and embedded it on the Facebook page. Some of the images on the rolls were the new products you could win. Until the end of the campaign each user could play three times a day. For each Facebook friend that was invited to the game the number of attempts increased.
The campaign had generated quite some traffic this way because users were visiting the page more often than usual in order to try their luck again. The possibility to invite friends to join the game made it even more viral: Users helped making the campaign (and page) more popular. At the same time, participants got to know new products in a fun way.
An additional advantage of a Facebook app: The users don't have to leave Facebook in order to retrieve the additional content. So the chance of losing them during the conversion to the landing page decreases drastically.
Once the campaign has run its course, page providers can track the use of an app via Facelift and evaluate it with statistics (Who participated how often? How did the behavior change during the campaign?). Next to numerous analysis and monitoring tools, the data of participating users can be displayed (see screenshot).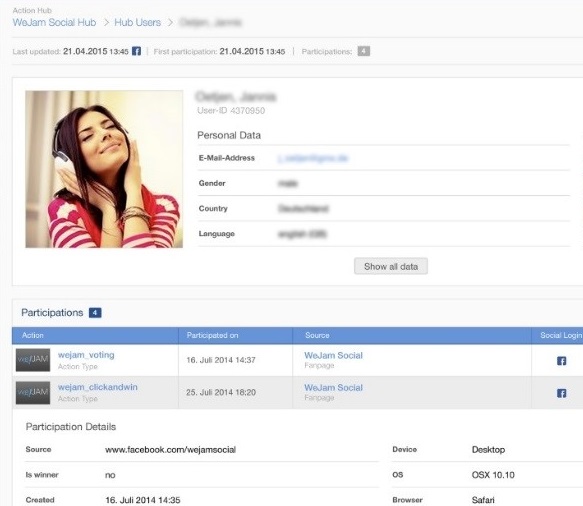 Facelift-Dashboard with User information
Of course the whole thing has its price. Next to producing costs for such an app, the expense for maintenance and support are not to be underestimated: Because of the increased traffic there are more comments or questions regarding operation and participation conditions, which will have to be answered.
Conclusion:
Facelift provides numerous opportunities to individualize and increase the value of your Facebook business page with apps. Depending on the type of the app, it can lead to an increase in traffic and engagement, which the page and ultimately the business can profit from. But there are also costs for creation and maintenance. So, prior to starting the implementation of an individual Facelift app, businesses should ask themselves one question: How much am I willing to spend on social media marketing?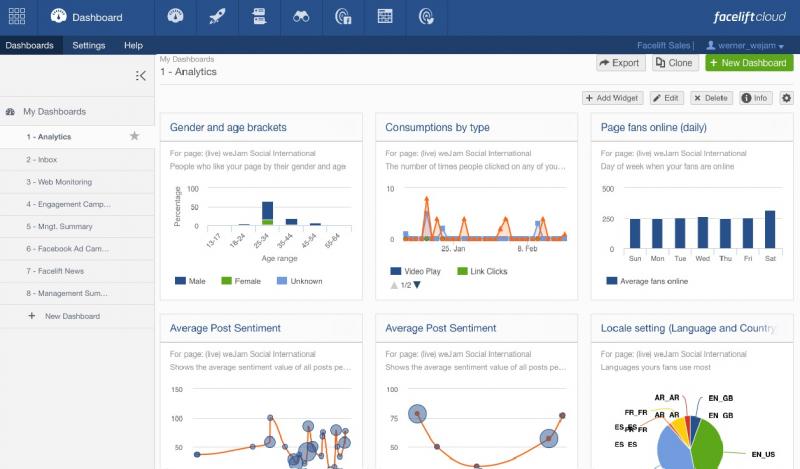 Facelift-Dashboard with Analysis