see-Conference #12: Strong Creations For More Sustainability
In 2017, the see-Conference, one of Germany's largest designconferences, has kept its promises: 4 days, 800 visitors, 4 locations, 25 individual events and exhibitions, around 15 speakers. There were lots of innovative ideas and projects to admire, ranging from visual communication to exciting research and developmental topics. We were attending the event with about 15 colleagues to listen to top creatives from an international environment. Not only did well known personalities like Dave Hakkens and Mario Lombardo present their artwork in a charming manner, but they also gave valuable insights into their creative process of creation and personal lifestyle. Here are my personal highlights of the see#12.
In accordance with Earth Day, which is celebrated annually on April 22nd, the see had a matching focus this year: sustainability, resources and the environment. Thus, in his openingspeech, Michael Volkmer drew attention to the nitrogen dioxide emissions in Wiesbaden at the very beginning and told us about the impressive social art sculpture "NOxmas". The tree positioned at the station forecourt was turned into Germany's largest and probably most aesthetic city air indicator. In March, the installation was dismantled for the time being.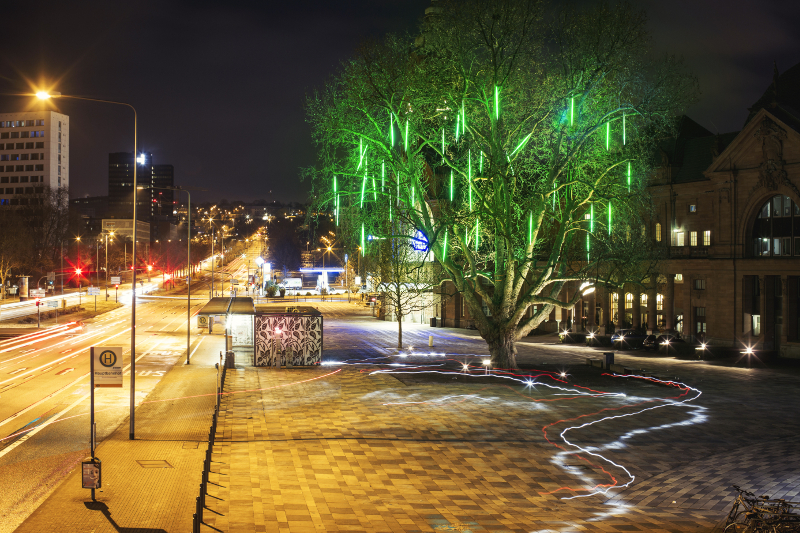 City air indicator NOxmas 
(image © Annika Schulz)
Michael Volkmer also informed the audience about the still relatively new association "Bilder der Zukunft" (images of the future), which is also active in the Wiesbaden area. The association is firmly convinced that the world needs social utopias for a worth livingfuture. For this purpose, members are looking for sustainable visions from the areas of design, art, science, film and more, which are meant to help turn utopias into realities.
At the end of this "green" opening speech it was pointed out that no disposable dishes should be used during the four conference days. Instead, the organizer managed to complete a logistical masterpiece and organized glassware, which was continuously cleaned by a dedicated cleaning team.
The highlight right at the start – who would have thought it?!
The first speaker, Bazon Brock, emeritus professor of aesthetics and culture, was warmly announced by his previous speaker as the "chatterbox", which is a derivation of the first name Bazon, of Greek origin. Bazon Brock can only be described in three words: a theoretical typhoon.
In his 45-minute lecture on the role of the designer in the age of "alternative facts" between thought processes such as "criticism as the only instance of consent" to apocalyptic thinking in the everyday life of a carpenter, the audience's thought processes were properly roused. Bazon Brock declared designers to be agents of the apocalypse; refraining as the most severe form of doing; the obvious lie as actually true, good and even healthy. He called all people equally ignorant, praised hackers as epistemologists, and argued that creating a problem is the only way to solve the problem. My conclusion: In all his harshness and consistency refreshingly brilliant!
In addition to his activity as a captivating speaker and rhetorician, Bazon Brock is also the founder of the "Gesellschaft des Glücks der Verfehlung" ("Society of Happiness of Misconduct"), the "Institut für Gerüchteverbreitung" ("Institute for Rumor-Sharing"), the "Prophetenschule" ("The Prophet's School") and "Denkerei" ("Thinkery") in Berlin.
Just saving the world: Product design made by Dave Hakkens
With Dave Hakkens, the see#12 has won another excellent representative: a world traveler and product designer who has lived with monks in Thailand, upcycles every piece of plastic that falls into his hands into sculptures, furniture and everyday objects and presses native cooking oil with wind.
The open-source project "Precious Plastic" – wich has been initiated by him – has already won several awards such as the D&AD Award, the 2016 Eco Coin or the Dutch Design Talent. Online instructions enable the construction of simple DIY machines for recycling different kinds of plastic. There is no need for extensive expertise or complicated materials for the implementation, which is why the concept is ideal for low-resource areas in order to quickly transform unwanted plastic waste into a reusable raw material.
In addition, Dave Hakkens has attracted attention with "Phonebloks": a modular construction kit that allows you to customize your smartphone freely and individually according to personal needs. The goal of the concept is to reduce electronic waste.
Mario Lombardo – the charmer 
Finally, I would like to highlight Mario Lombardo, who presented us his office, work and life, and thus captivated the entire room with his very natural manner and disarming openness. As one of the most renowned communication designers of our time and with more than 100 national and international awards, I was especially impressed by his rather classical method of creation. Mario likes to be influenced and inspired by his immediate environment – and the success of many of his projects accounts for this method of going through life with open eyes.
Here is an example: For the international advertising campaign for the VW perfume "Pétrole", the designer was in search of a visualization possibility. The automotive industry has its very own visual language and clear design patterns that can quickly be recognized by a skilled eye. When looking at a gasoline film on an asphalt surface, Mario Lombardo's daughter spontaneously said, "Look Papa, a street rainbow!" This sentence awoke his creativity, opened up a whole new perspective and led to a refreshing key visual: the advertisement for "Pétrole" staged the colorfulness and aesthetics of leaked gasoline on asphalt.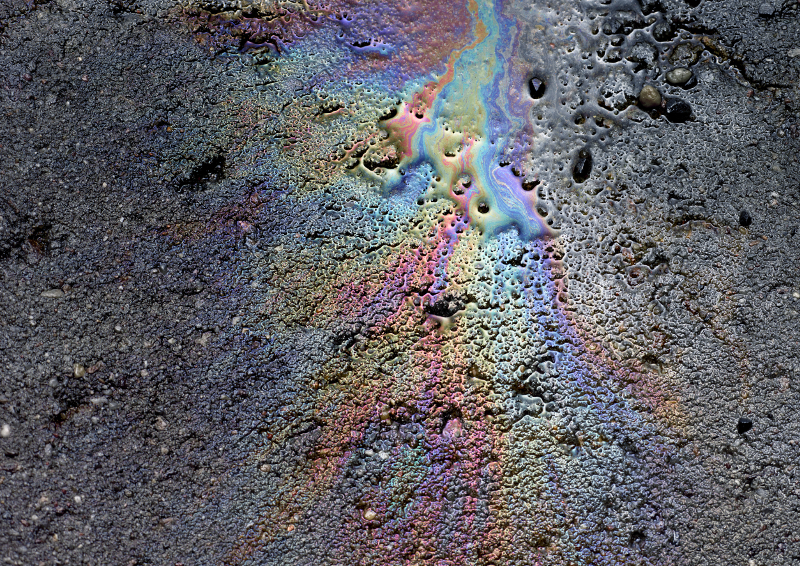 For the VW campaign, Mario Lombardo has created a new creative perspective with the esthetics of leaking gasoline.
New incentives through a change of perspective
The other guest speakers also had very interesting lectures that I would like to mention here, including, for instance, the illustrator Teresa Sdrealevich, the animator and film director Floris Kaayk, the city planner and researcher Allison Killing or the architect Laura Baird. The see is also a perfect opportunity for professional exchange on the urban ale-bench every year. A large part of the agency landscape in the Rhine-Main area is represented every year at the creative conference and is open for networking, so I can hardly wait for see#13.